TOP Battle Royale Games of 2018
The biggest and best games in battle royale have had a full release, but they're still rolling out new features, maps, weekly events, and updates. Even if you're familiar with the best battle royale games, there's a lot to look forward to from them in 2018.
Fortnite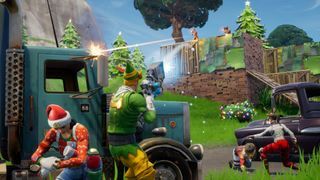 Developer: Epic Games | Release date: Out now
Fortnite had a big 2017, and only got bigger this year, providing a bright and arcadey experience (though one with plenty of complexity when it comes to fort building) to counter PUBG's measured pace and gritty vibe.
Epic isn't shy about experimenting with wacky modes like 50 vs 50 or by letting players pretend to be bushes, and after the discovery of a glitch that let players ride flying pumpkins they just went ahead and left it in the game. We don't expect the goofy experiments to stop anytime soon.
PUBG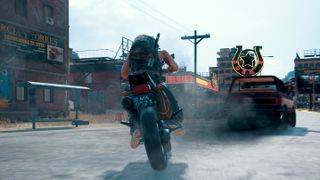 Developer: PUBG Corp | Release date: Out now
We don't know if there will be a PUBG movie, but after the craziness of last year we wouldn't really be surprised (we even came up with a script). Along with continued optimizations to the game, an early build of a smaller map called Savage went into player testing and we expect new weapons and vehicles to keep trickling in as they did for most of last year. PUBG was 2017's biggest phenomenon, and will continue to be a major force in BR.
H1Z1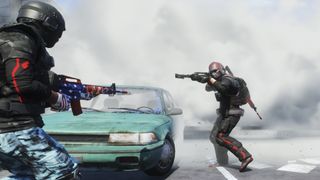 Developer: Daybreak | Release date: Out now
H1Z1 left Early Access this year, but is still getting plenty of new changes: a week after launch it went free-to-play and added a vehicles-only mode called Auto Royale. It still has a healthy pro scene and multiple esports tournaments every year. While H1Z1's player numbers have fallen quite a bit over the past six months, it will continue to tweak its formula in 2018 to provide quicker matches and more explosive action and further refine its map.
Early Access
Beyond the biggest battle royale games in full release, there are several that are currently playable while in development, with official launches planned for later this year.
Realm Royale
Developer
: Hi-Rez |
Release date
: In Early Access
Free-to-play hero shooter Paladins announced a upcoming battle royale modeat its Hi-Rez Expo, and it's out now in Early Access. Realm Royale features fantasy classes like warriors and mages, and blends weapons like shotguns and sniper rifles with ice wands and crossbows. Plus, there are mounts to ride through the map as you do battle with other players and the deadly fog closes in around you. It's a fresh-feeling take on the battle royale formula and has already become one of the top 20 games on Steam.
Cuisine Royale
 Developer: Darkflow Software | Release date: In Early Access
Originally created as an April Fool's joke, Cuisine Royale quickly blossomed into a fun standalone game on Steam. The gag is, your armor is assembled from bits of kitchenware like pots, pans, colanders, and waffle irons, and the loot boxes are refrigerators. Silliness aside, it's a solid battle royale game and a nice looking one, to boot. There's no lobby, plane ride or parachuting, so it's also quick to get into a match for some looting and shooting.
Radical Heights
Developer: Boss Key | Release date: In Early Access
Boss Key Productions, developer of Lawbreakers, abruptly announced a free-to-play battle royale game in April and then released it into Early Access a day later. And at some point, we're not quite sure when, it'll be closing down because Boss Key itself has closed.

For the time being, anyway, it's an '80s-infused romp through a game show setting filled with cash, prizes, BMX bikes, ziplines, trampolines, and lots of obnoxious neon. It's a shame it won't stick around because it's a lot of fun, an accessible alternative to the military grittiness of PUBG and the intimidating building systems of Fortnite.
Darwin Project
Developer: Scavengers Studio | Release date: In Early Access
Darwin Project, which we first learned of at E3 2017, pits players against one another to survive in a frozen wilderness while participating in a dystopian research project. Instead of just randomly running into other players as a circle shrinks around them, they can track one another down by following footprints in the snow, finding clues that point them to nearby players, and even by viewing a map found in certain areas that shows every other player's location.

After struggling to draw players in Early Access, Darwin Project switched to a free-to-play model hoping to cut down on long match queue times.
Maelstrom
Developer: Gunpowder Games | Release date: Late 2018
Maelstrom takes the battle royale concept and ships it to sea, where 15 players compete to be the last ship sailing in this fantasy naval combat game. Choose from humans, orcs, and dwarves, each with their own style of ship, and beware massive sea monsters who will sink you if you stray too long in the dead seas around the perimeter of the map's safe zone.

It's a fun and attractive ship combat game in Early Access, though it hasn't drawn much of an audience yet, meaning matches can take a while to fill.
Surviv.io
Developer: surviv | Release date: Playable in development
While the minimalist graphics may not look like much—players are represented simply as circles—this top-down, browser-based battle royale is one of the most enjoyable BR games out there. Everything about it is fast: click play and you're instantly a match, and rounds only last a few minutes making it perfect for quick and fun sessions. It's cartoony yet still intense, featuring fun weapons and lots of gear. Best of all, it's free.
SOS
Developer: Outpost Games | Release date: In Early Access
In addition to drawing millions of players, battle royale games have attracted millions of viewers, and SOS represents the logical step of harnessing those watching eyes and giving them a role to play. As Evan reported in December, surviving SOS's version of battle royale depends not just on being the last player standing but on winning over the audience.

In SOS, 16 players are contestants on a fictional TV show, released on an island filled with monsters. Twitch viewers take part by deciding which items are dropped from helicopters: something helpful like a weapon or healing item, or something deadly like a bomb, depending on how they feel about the contestants' performances. Guns are relatively scarce and three players, rather than just one, may escape on a helicopter at the end of the 30-minute round, allowing for team-ups (and betrayals).
Stand Out: Battle Royale VR
Developer
: raptor lab |
Release date
: Now in Early Access
Battle royale in VR feels like a tricky proposition: one wonders if an online-only game can attract enough players who own VR headsets to consistently keep numerous matches filled. But having played it in (very) Early Access myself, and having a hilarious experience when another player reached out and grabbed a gun out of my hands, I'm pretty sold on the concept.
Survival Games: Battle Royale
Developer: 2.0 Studios | Release date: In Early Access
Survival Games: Battle Royale has extremely Minecraft-esque voxel graphics and a few twists for BR, such as procedural maps that give players a different arena each time they play and a map editor that will let players design their own custom arenas. Look for it this month.
Source: pcgamer