GameSir AC Stickers for Switch, Playstation and Xbox
Special Note:
 
1. Brazilian customers please remember to provide the CPF ID IN THE SPECIAL INSTRUCTIONS BLANK OR ADDRESS LINE
which is required by Brazil customs, we can't ship without it.
2. Middle East customers please enter your address in English.
3. HK customers please enter your address in Chinese.

New Shipping System
We now can deliver to more than 180 countries and regions in the world!

Also, click the button below to go to the official GameSir store on AliExpress to purchase is ok. Welcome to the GameSir store!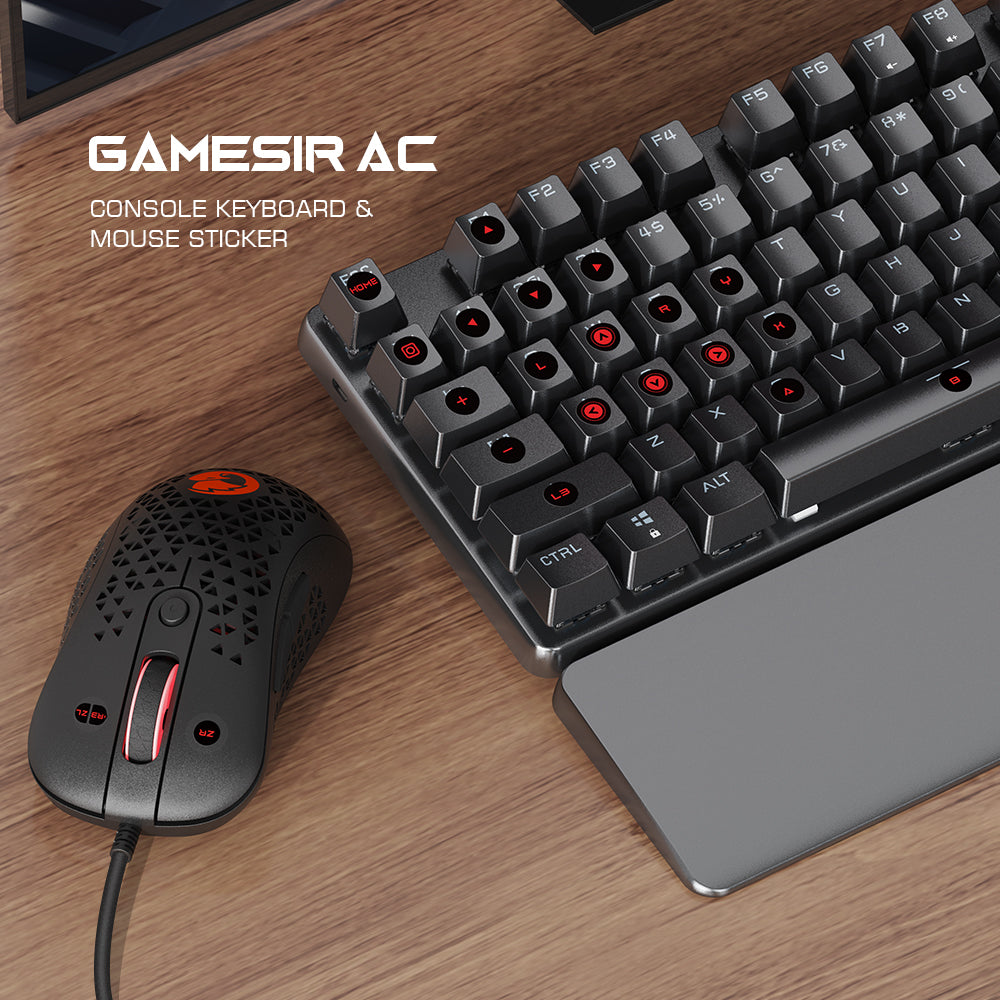 Since the advent of GameSir VX Series, many console gamers have got themselves armed with VX Series for the PC gaming experience brought. Undoubtedly, once console gamers get accustomed to GameSir VX Series and keyboard & mouse gaming, it's hard for them to let go of VX accessories because of the next-level console gaming experience. However, when switching to keyboard & mouse gaming in a sudden, it's unavoidable that console gamers may get clumsy and upset at the beginning as it takes time to remember the new control keys. To ease them into the keyboard & mouse gaming on consoles, GameSir have designed 3 series of stickers according to 3 kinds of consoles. They are AC3 (Switch Layout), AC4 (PS Layout) and AC5 (Xbox Layout). Point your way, point your victory!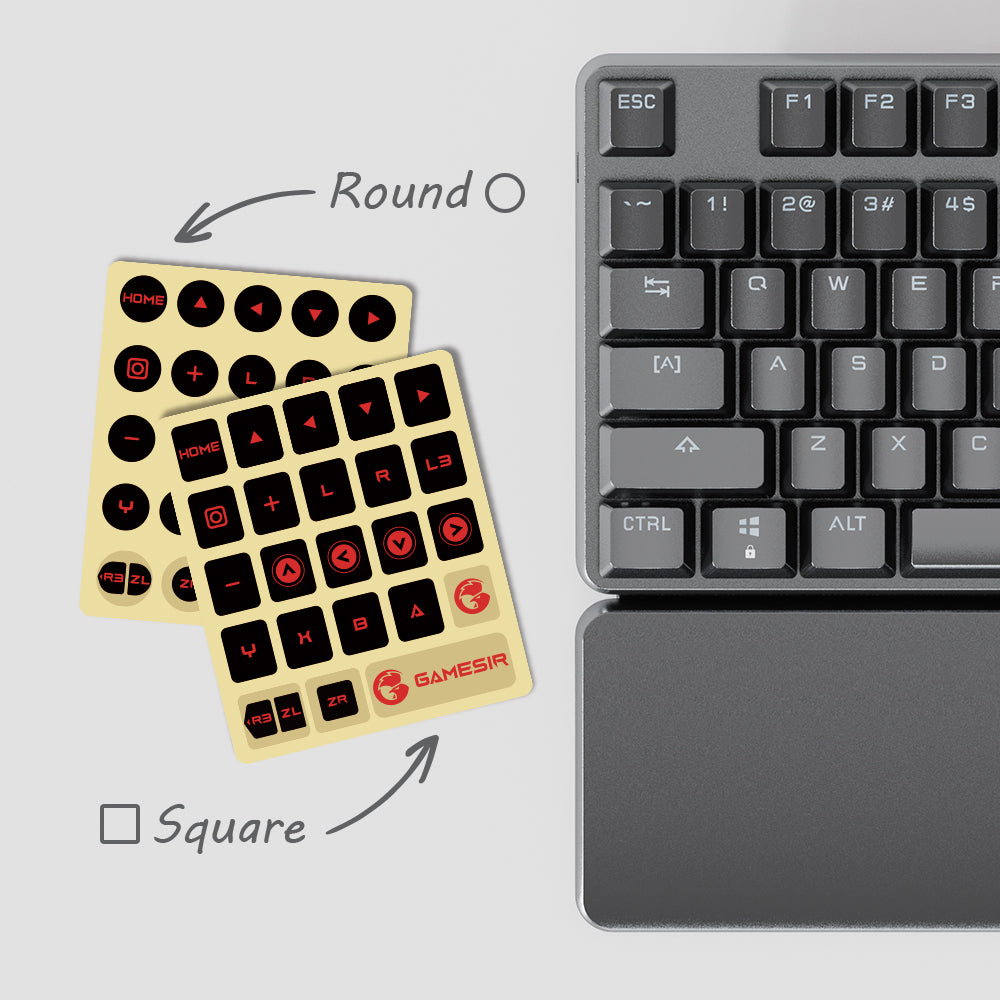 Square & round style, pick your shape
There are 2 sets of stickers in each AC series. One is square in shape, the other round. Gamers can pick either shape as preferred.
Clear button indicator, Clear Win
Still feel clumsy and daunted when switching from controller gaming to the keyboard & mouse? Use our AC stickers on your keyboard & mouse to help you remember the new control keys, and quick start PC gaming on your consoles like a pro.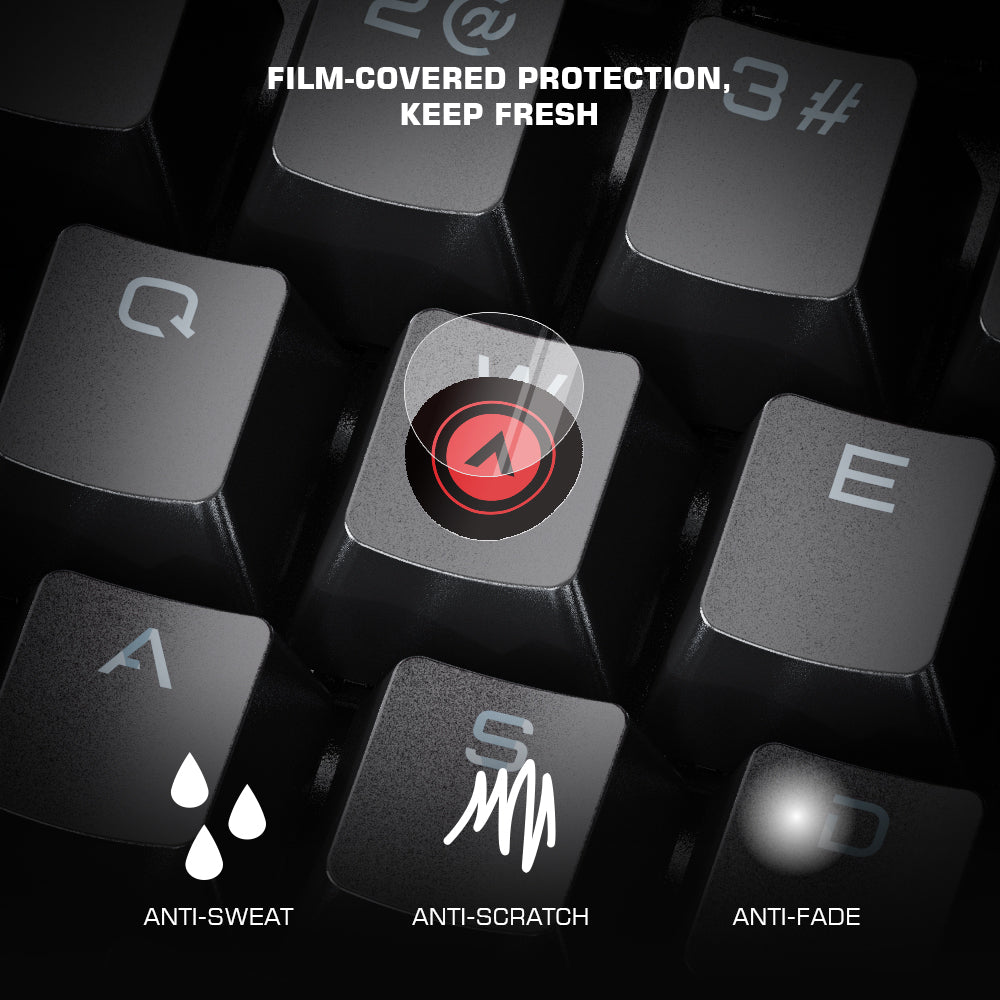 Film-covered protection, keep fresh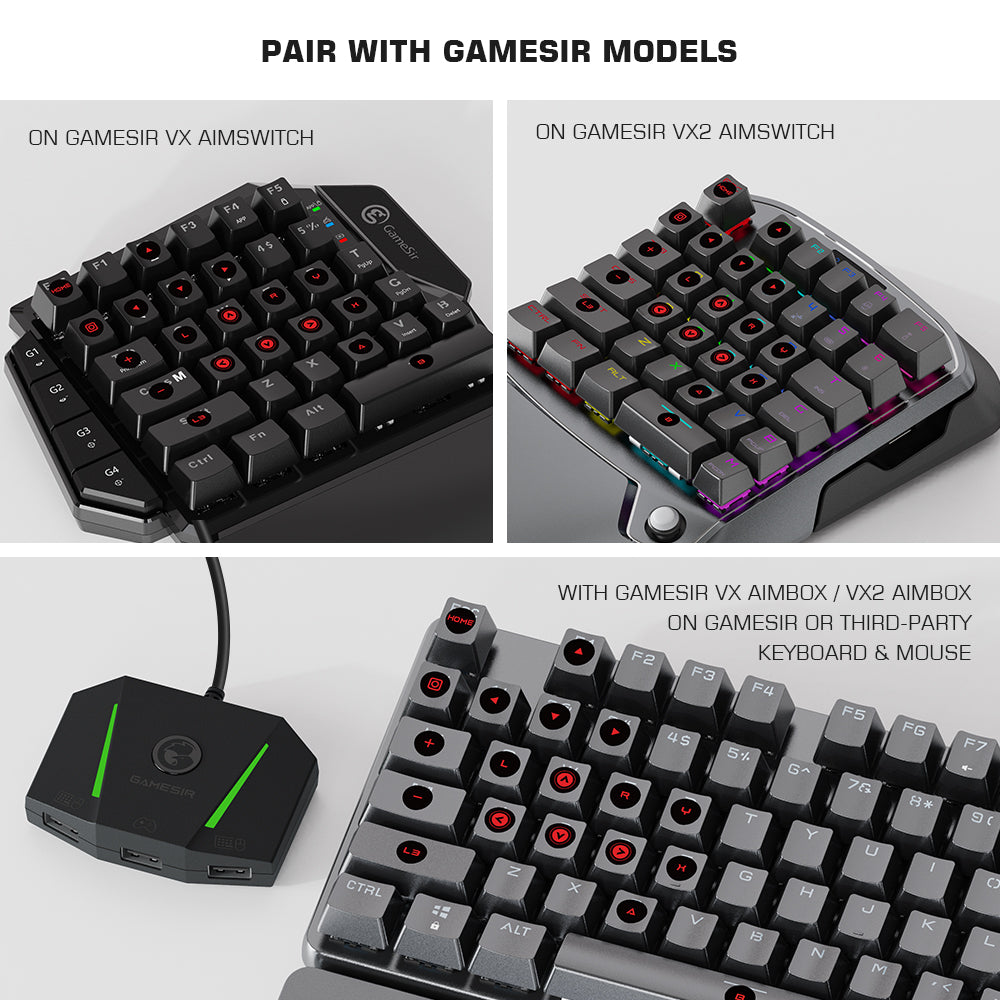 Pair with GameSir Models
On GameSir VX/ VX2 AimSwitch
With GameSir VX AimBox / VX2 AimBox on GameSir or third-party keyboard & mouse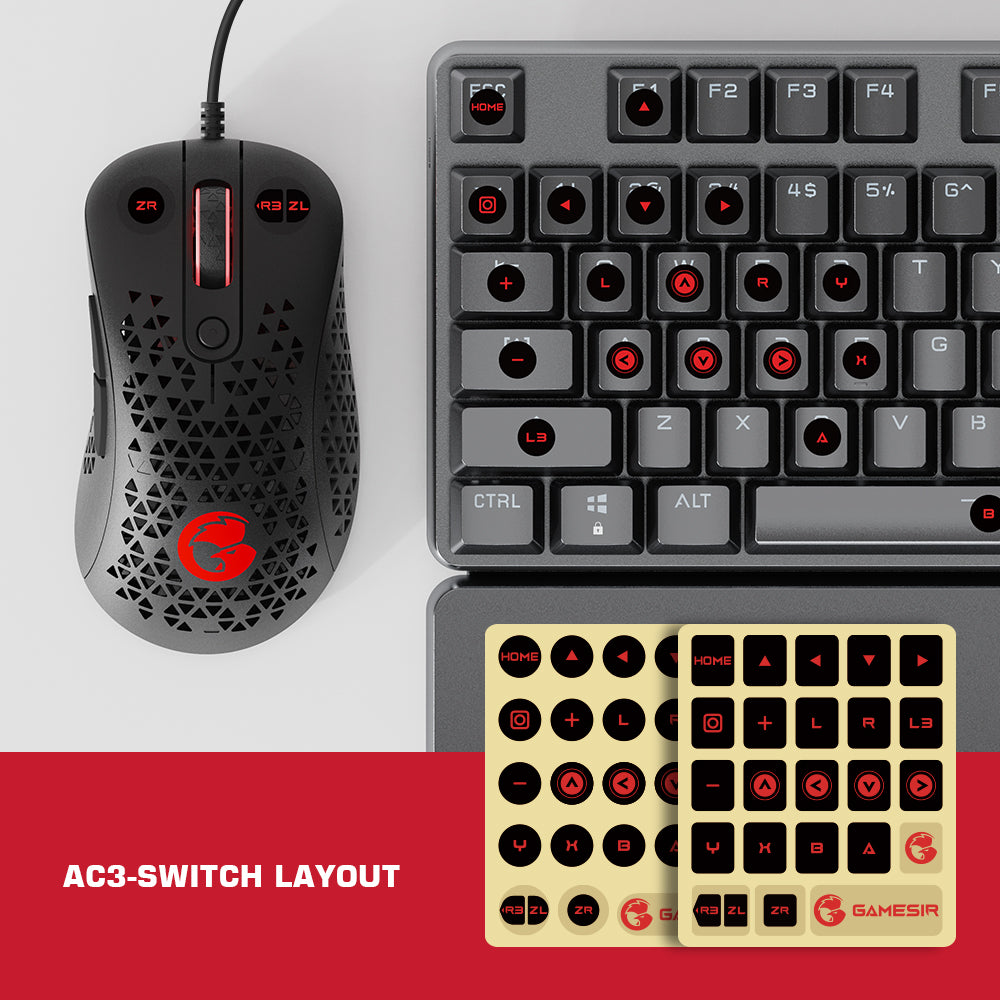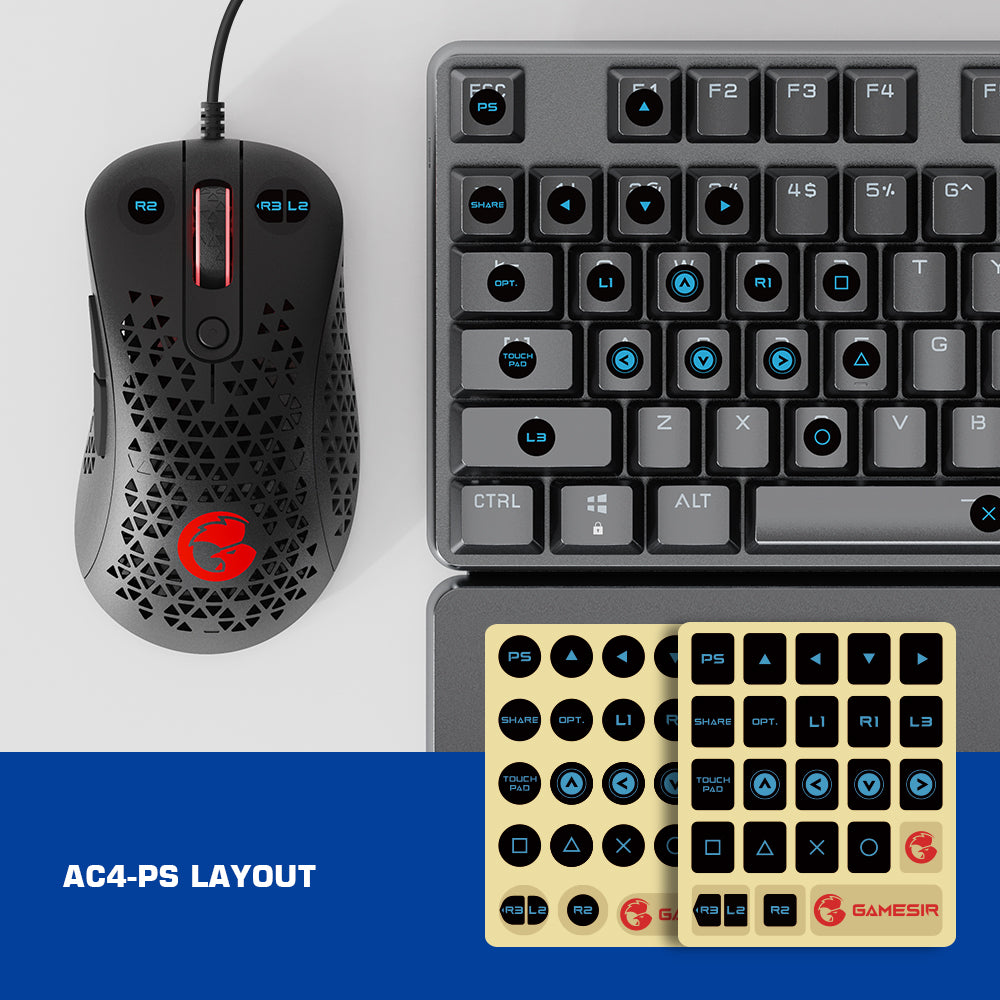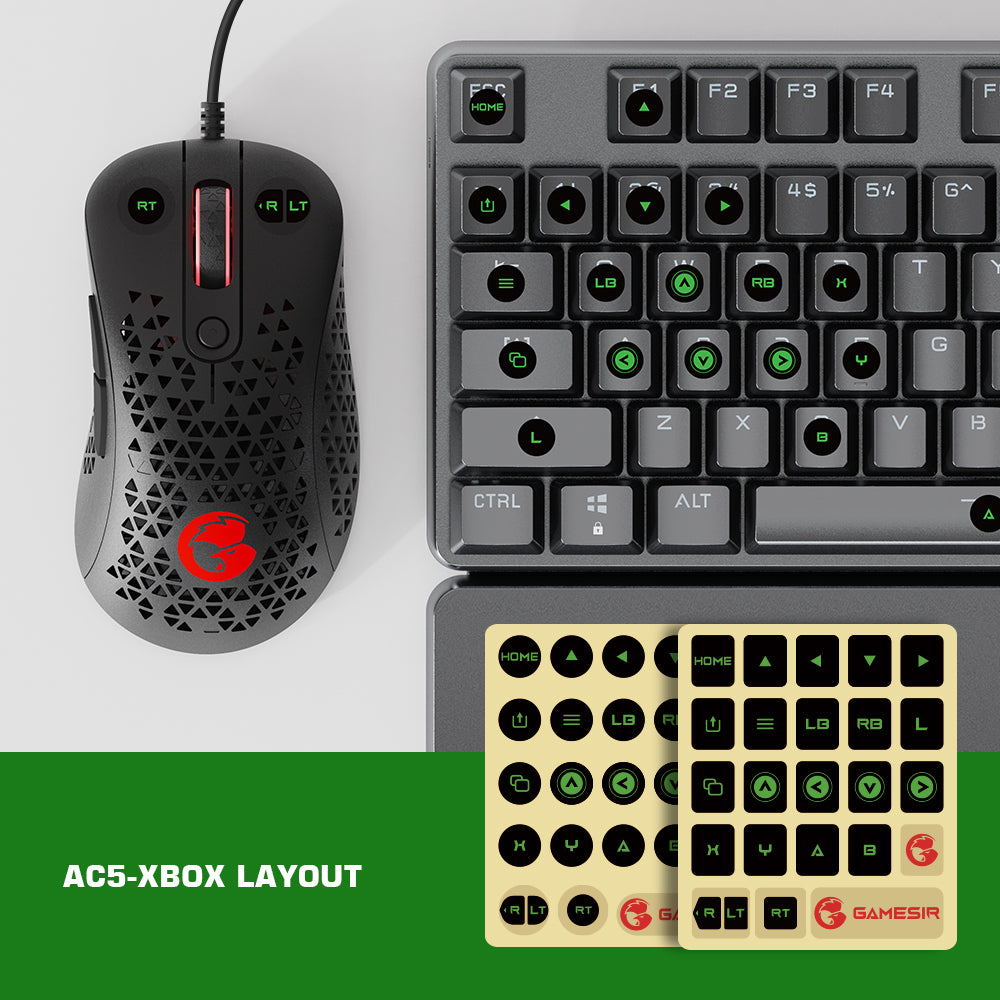 Tech Specs:
1.
Model: GameSir-AC3
Layout: Switch Style
Color: red-on-black
Product Size: 78*62*0.3mm / 3.07*2.44*0.01 in
Package Size: 121*80.5*2mm / 4.76*3.17*0.08 in
ROUND:
R3|ZL, ZR Size: 12*12mm; The Rest Buttons Size (Exclude GameSir Logo): Same, 10*10 mm
SQUARE:
R3|ZL Size: 14*12mm; ZR Size: 12*12 mm; The Rest Buttons Size (Exclude GameSir Logo): Same, 10*12 mm
2.
Model: GameSir-AC4
Layout: PS Style
Color: blue-on-black
Product Size: 78*62*0.3mm / 3.07*2.44*0.01 in
Package Size: 121*80.5*2mm / 4.76*3.17*0.08 in
ROUND:
R3|L2, R2 Size: 12*12mm; The Rest Buttons Size (Exclude GameSir Logo): Same, 10*10 mm
SQUARE:
R3|L2 Size: 14*12mm; R2 Size: 12*12 mm; The Rest Buttons Size (Exclude GameSir Logo): Same, 10*12 mm

3.
Model: GameSir-AC5
Layout: Xbox Style
Color: green-on-black
Product Size: 78*62*0.3mm / 3.07*2.44*0.01 in
Package Size: 121*80.5*2mm / 4.76*3.17*0.08 in
ROUND:
R|LT, RT Size: 12*12mm; The Rest Buttons Size (Exclude GameSir Logo): Same, 10*10 mm
SQUARE:
R|LT Size: 14*12mm; RT Size: 12*12 mm; The Rest Buttons Size (Exclude GameSir Logo): Same, 10*12 mm

Package Contents:

1.
GameSir-AC3 *1
Certification *1
Recommended Sticking Method Card*1

2.
GameSir-AC4 *1
Certification *1
Recommended Sticking Method Card*1

3.
GameSir-AC5 *1
Certification *1
Recommended Sticking Method Card*1