GameSir T3S Multi-Platform Game Controller
Manual & Tutorial: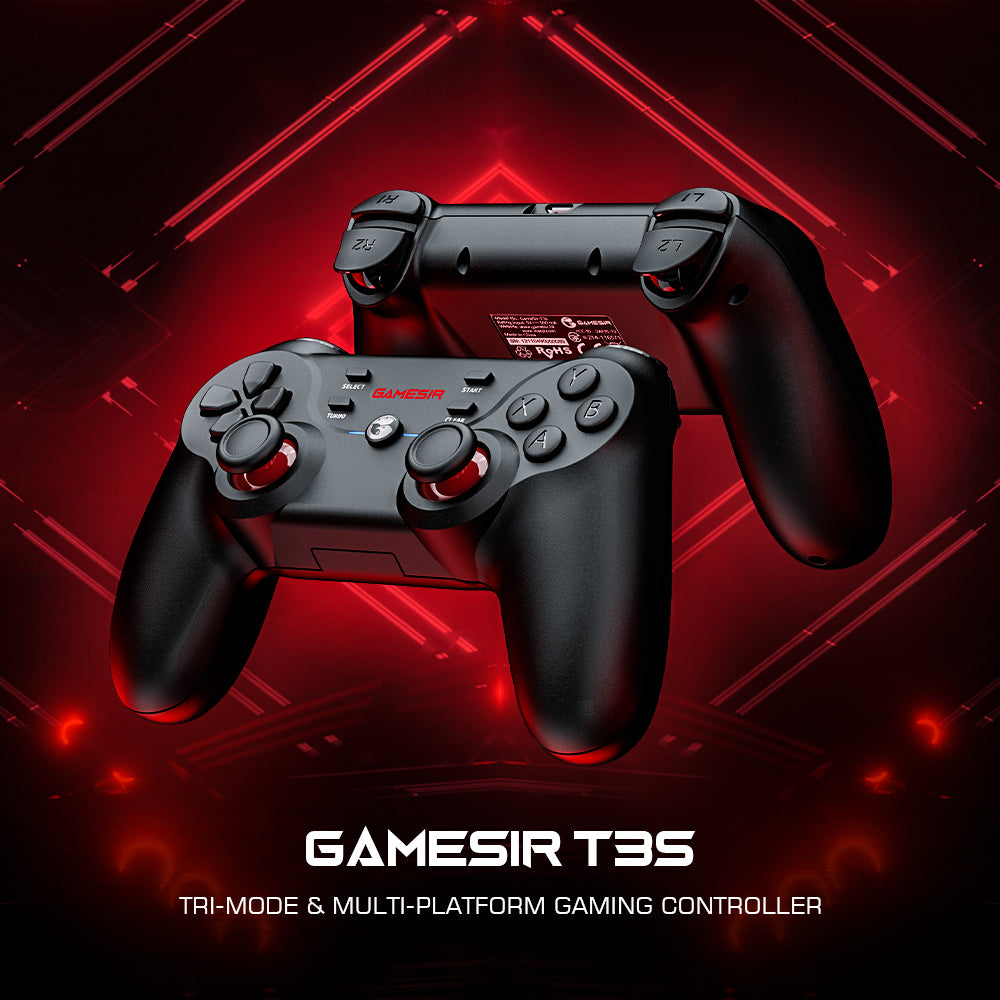 GameSir T3s is a multi-platform game controller for Nintendo Switch, Windows PC, iOS and Android devices, ideal for gamers who want to use one controller on multiple devices. It allows you to switch between wireless or wired mode on large screen gaming devices such as desktops, laptops and Android TV, giving you more freedom to use the connection you prefer. Plus, you have complete freedom to customize in-game controls, including trigger range, vibration intensity, or turbo speed, and more. If you want a versatile controller that makes gaming easier and relatively unrestricted, the GameSir T3s gamepad will be your go-to.
Play big-screen games over a wired or wireless connection:
Obviously, wireless controllers allow you to sit on the couch as comfortably as possible and enjoy gaming on the bigger screen. The wired controller ensures a smooth and ultimate gaming experience without latency and low battery anxiety. A bigger screen requires more freedom, and when you have the GameSir T3s gamepad, it all comes naturally.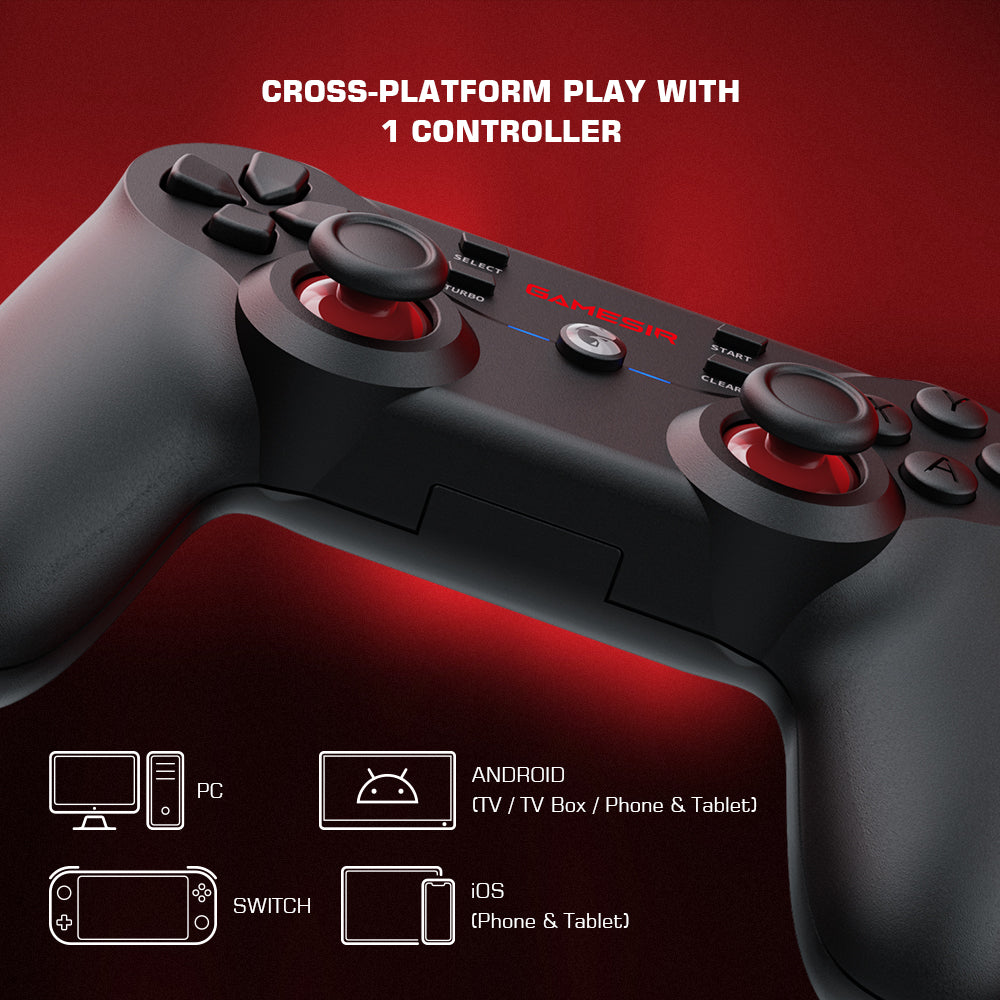 Play games across multiple platforms with one controller
GameSir T3s gamepad is compatible with Nintendo Switch, computer, Android TV / TV box, Apple iPhone / iPad and Android smartphone / tablet, you can use it on multiple gaming devices without having to find different controllers for different platforms. Easy to use and easy to play with just one gaming controller.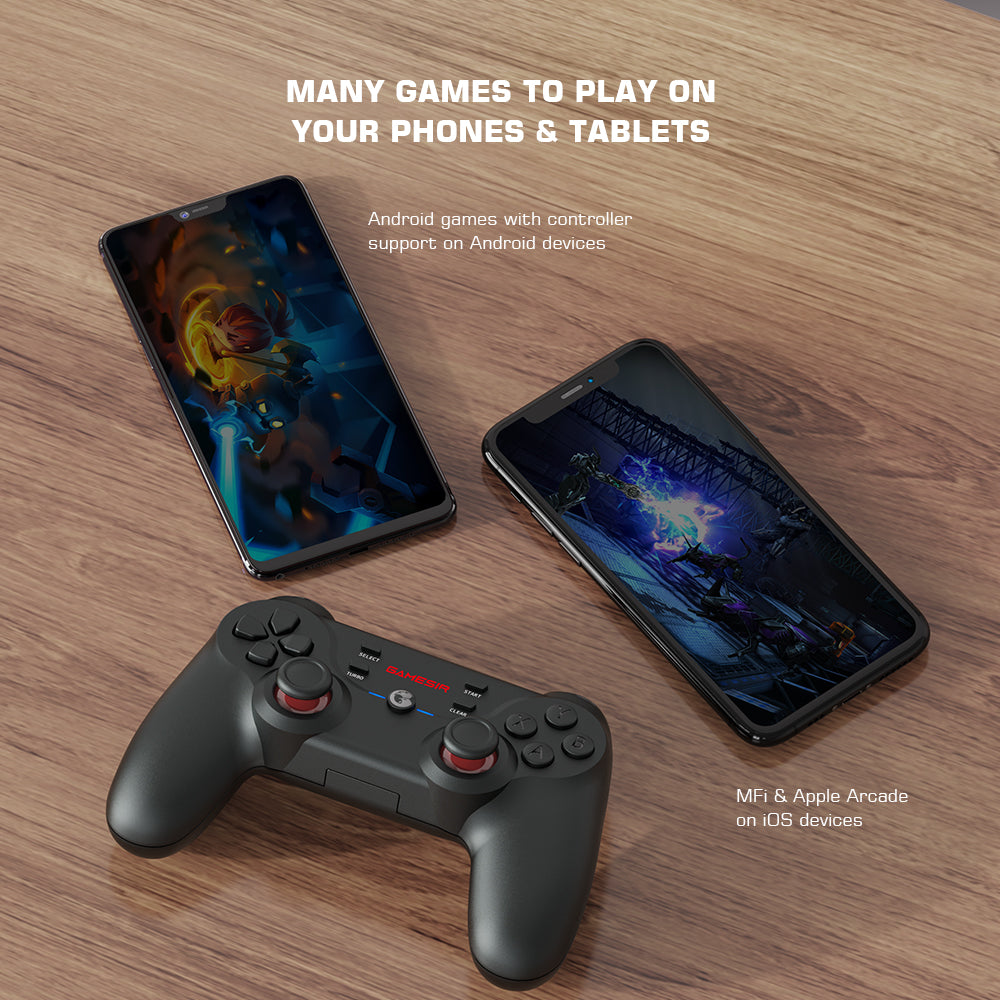 Many games to play on your cellphone and tablet:
On mobile devices like phones and tablets, you can use the GameSir T3s game controller to play many games without having to struggle with clumsy touchscreen controls. You can easily launch MFi or Apple Arcade games on your iOS mobile device and play games with controller support on your Android device.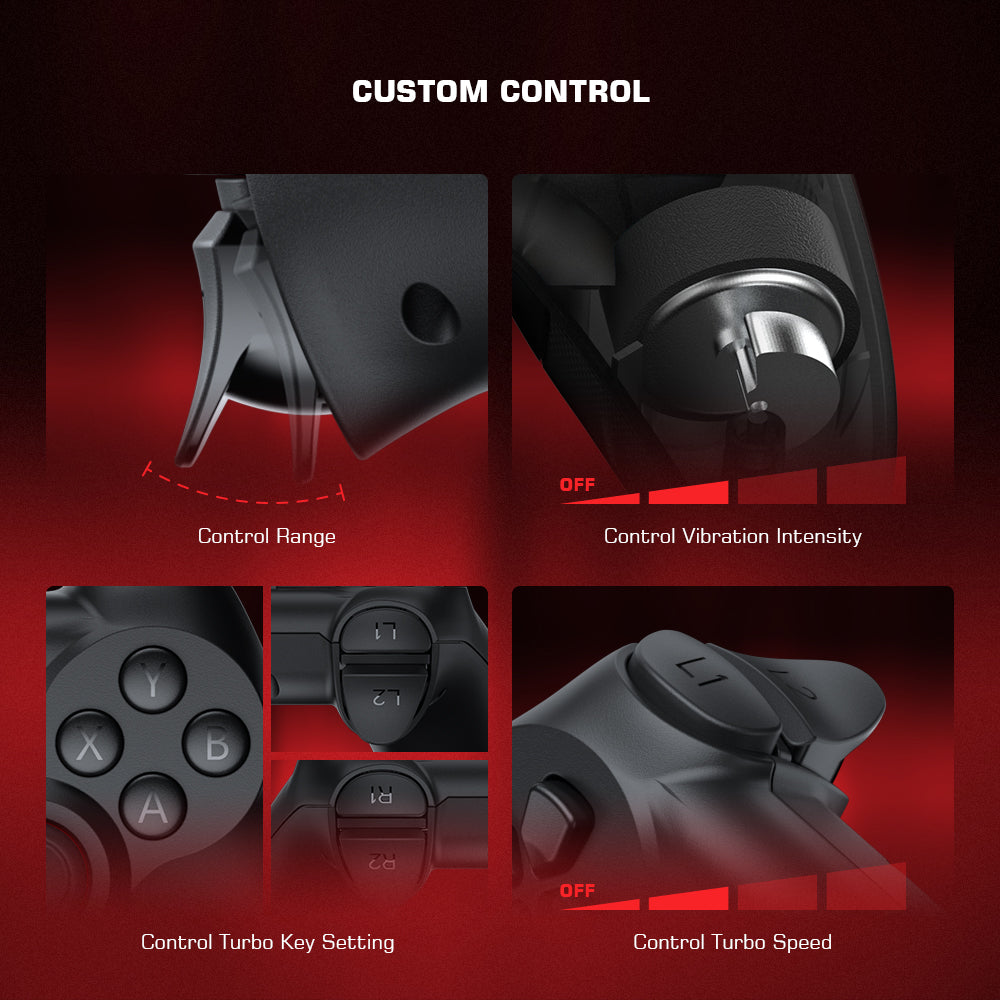 Custom controls: Customize settings to your personal preferences:
GameSir T3s is not only a cross-platform multifunctional game controller to make your gaming easier, but also customizable settings to make your game more personal.

A. Trigger range: The linear trigger buttons on GameSir T3s give you precise and flexible control over in-game speed and attack strength by how much pressure you apply to them.

B. Vibration intensity: 4 vibration intensity options (off / low / medium / strong) are available, you can choose the one that suits you best in the game.
Please Note: It only supports vibration on PC and Switch.

C. Turbo function configuration: There are 8 programmable keys (A / B / X / Y / L1 / L2 / R1 / R2) on which you can set the Turbo function.

D. Turbo mode: There are 4 Turbo modes (Off, 3 shots/sec, 6 shots/sec, 9 shots/sec) for you to choose from.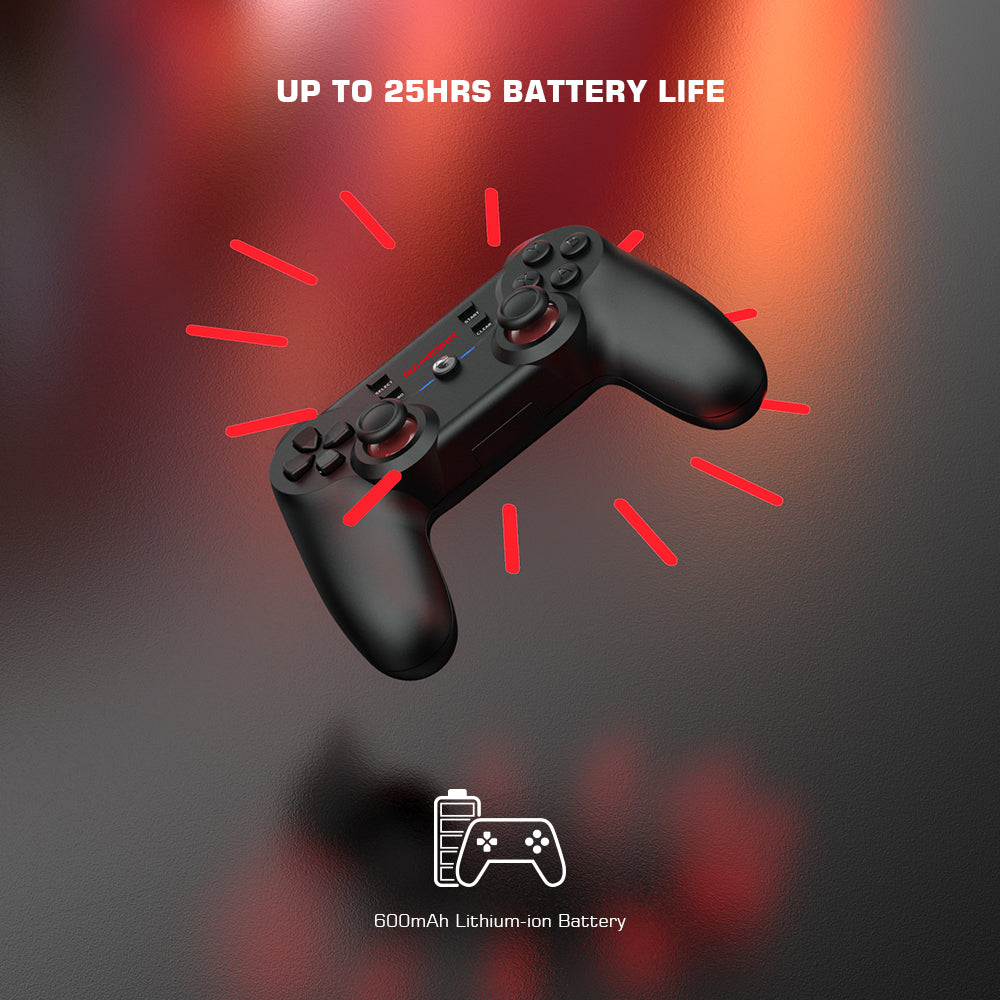 Up to 25 hours of battery life: 
The built-in 600mAh Li-Ion battery provides up to 25 hours of uninterrupted playtime for a smooth, outstanding wireless gaming experience.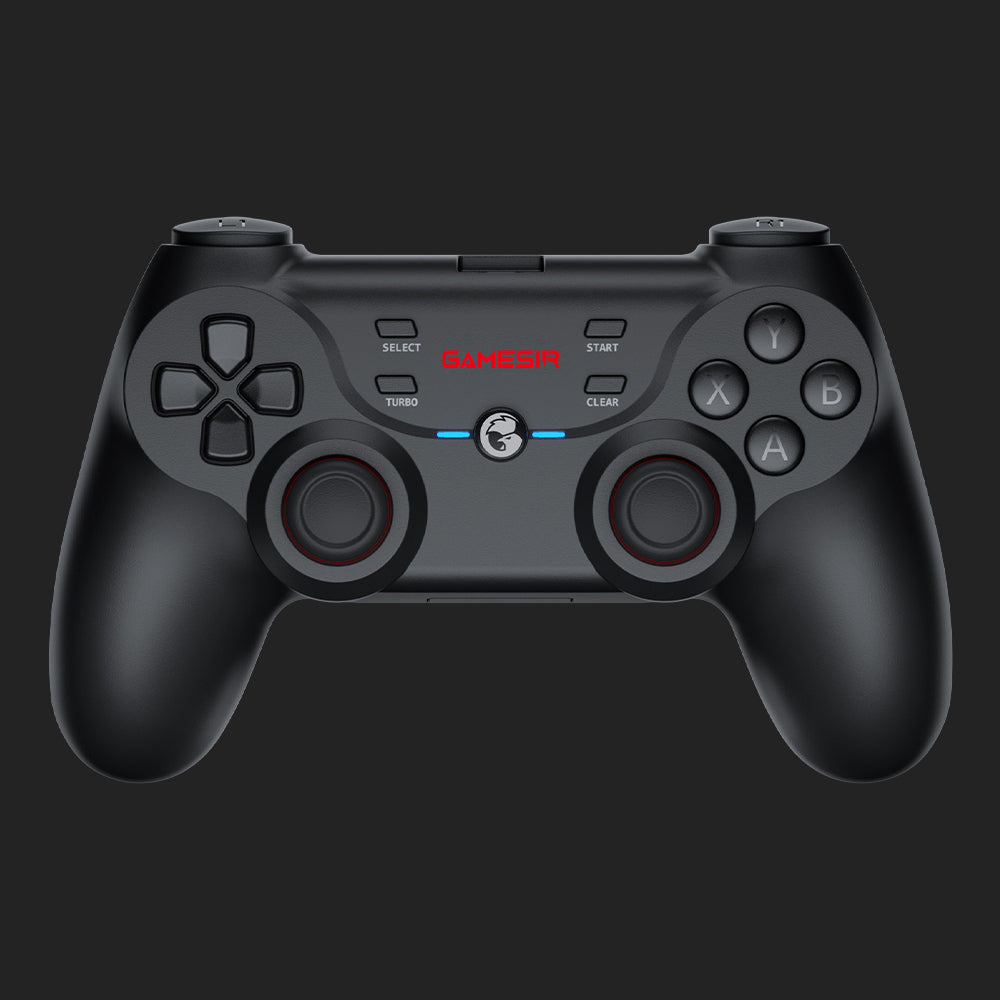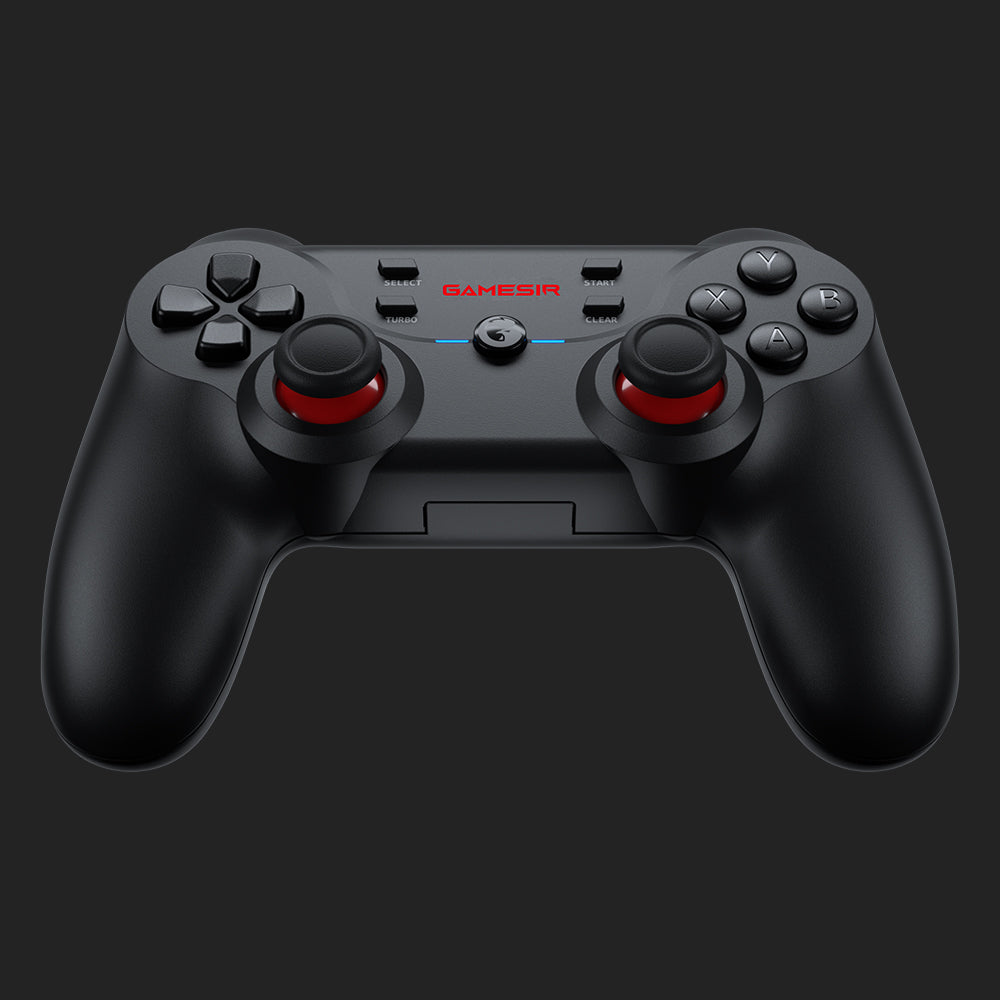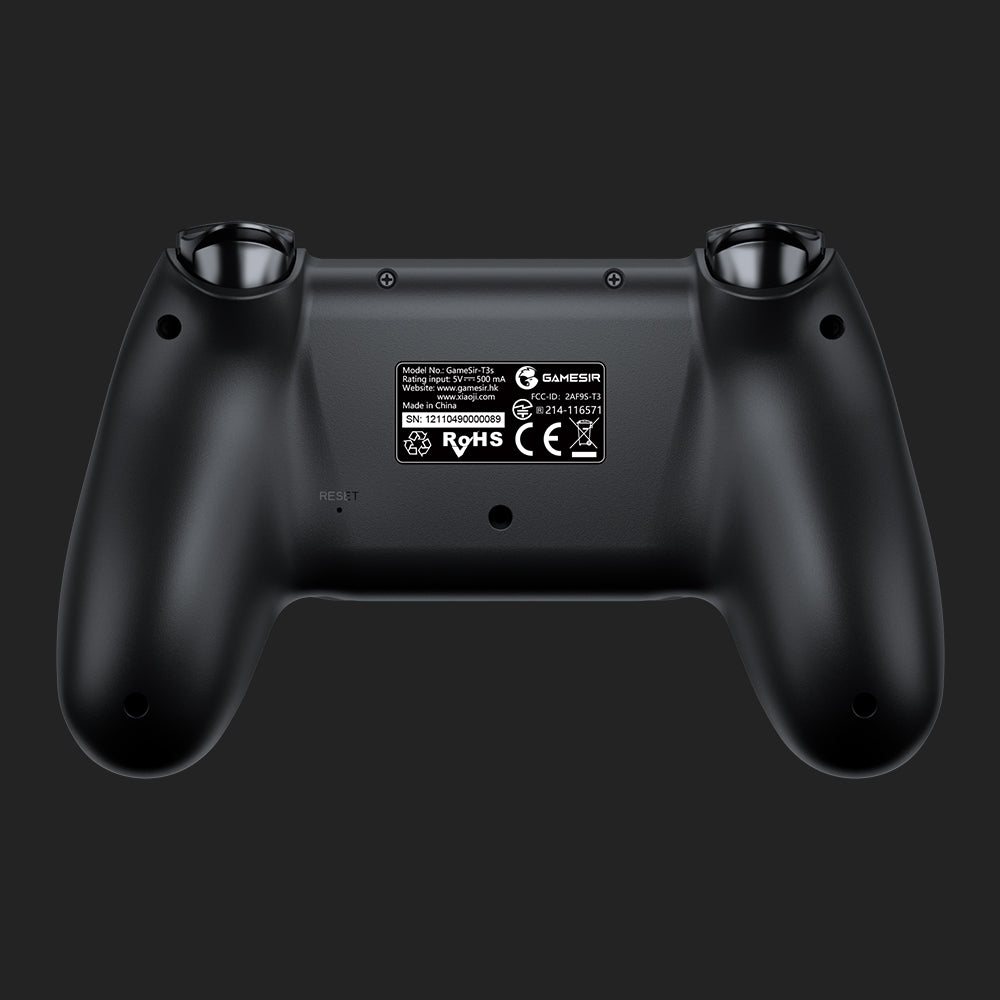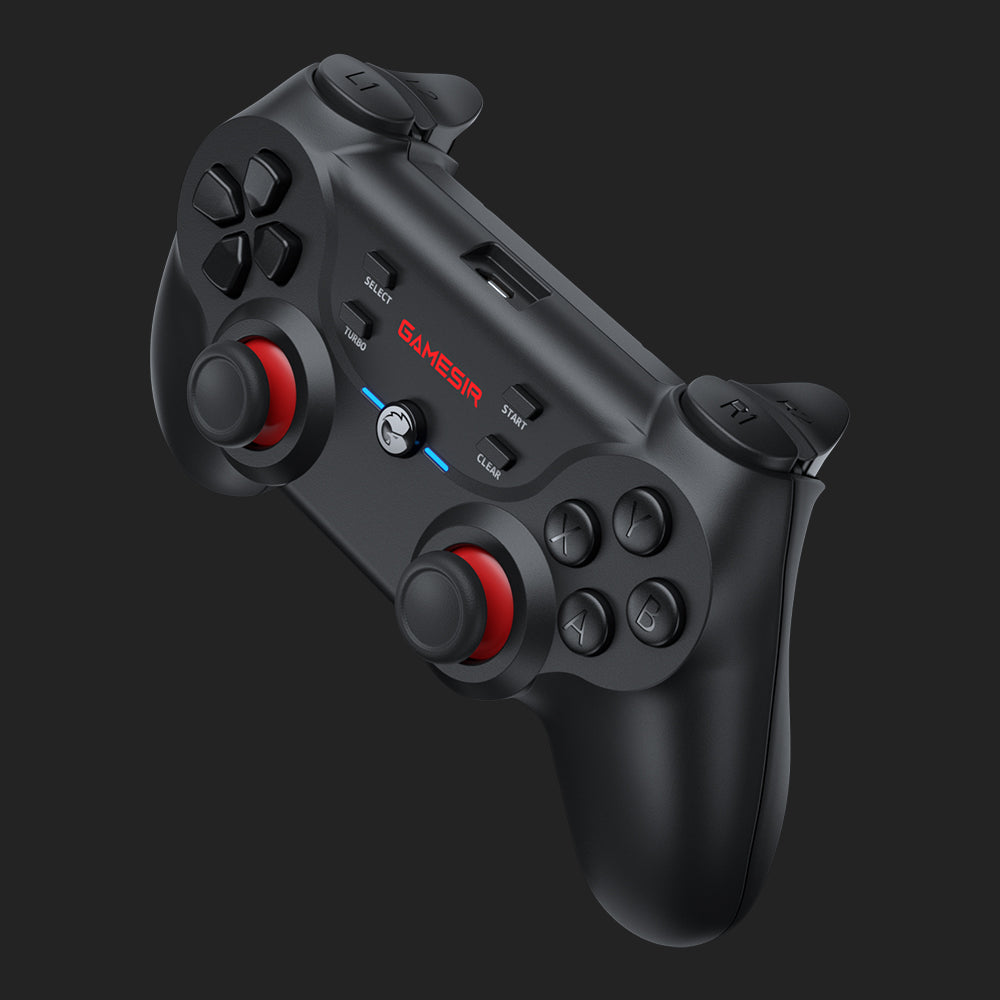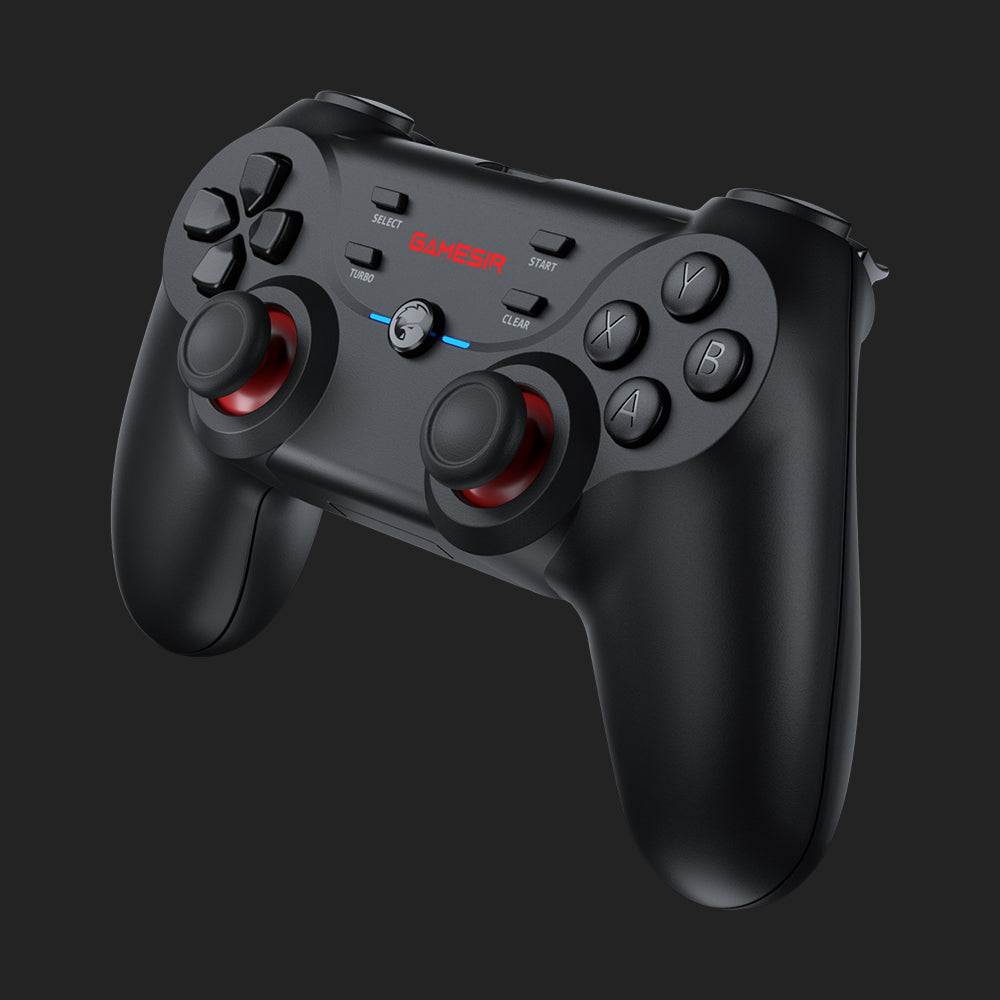 Technical Specifications:
Work Platform: Windows 7/10 or above, Android 7.0 or above, iOS 13 or above, Nintendo Switch
Connectivity: Bluetooth 5.0 (for Switch, Android and iOS); Bluetooth 5.0 Adapter and Wired (for PC)
Vibration Motor: Yes (PC and Switch only)
Vibration Intensity Adjustment: Yes (PC and Switch only)
Six-axis gyroscope: No
Wake switch console function: yes
Battery: 600 mAh rechargeable Li-ion battery
Product size: 162*102*67 mm/6.38*4.02*2.64 inches
Net Weight: 198 g / 0.44 lb
Package size: 165*112*76mm/6.50*4.41*3.00 inches
Cable Length (Wired Mode): 1.8 m / 5.91 ft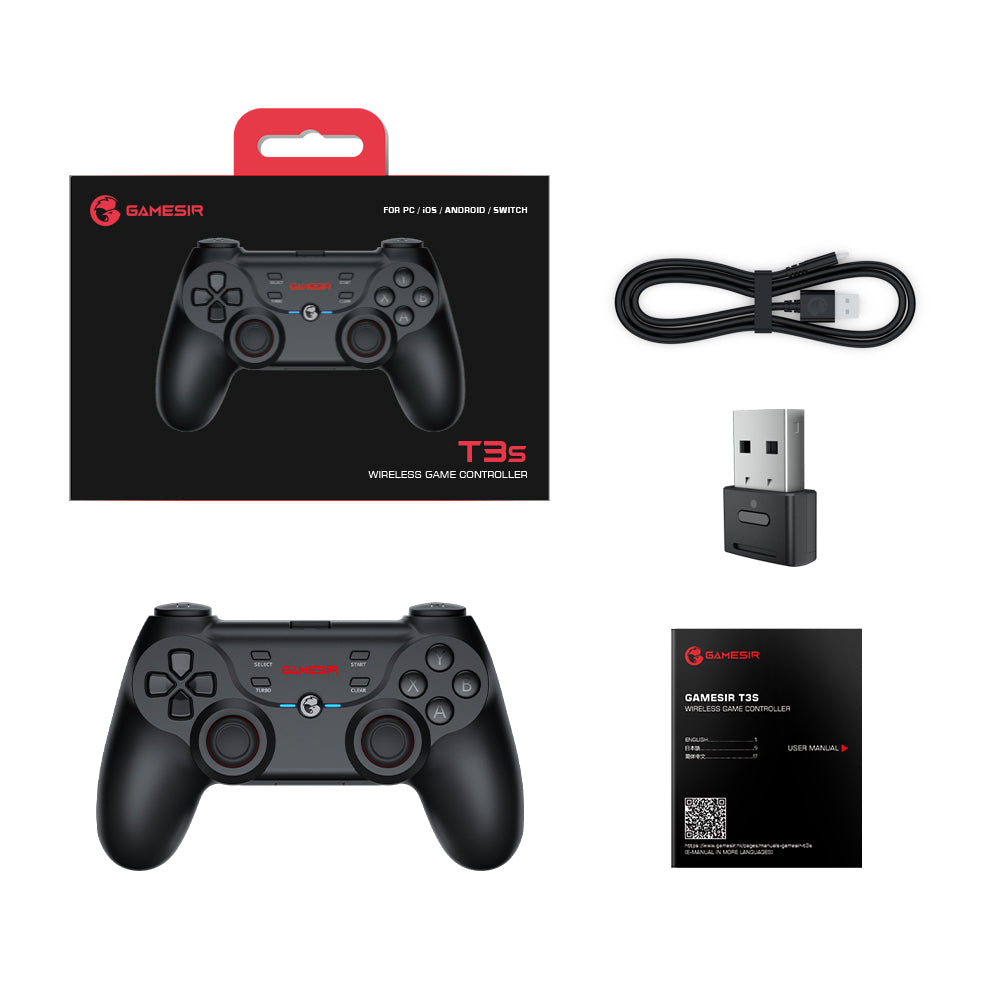 Package Contents:
GameSir-T3s *1
Bluetooth receiver*1
Micro-USB cable (1.8 m) *1
User Manual*1
Certification*1
FAQ:
1. What platforms does it support?
It supports Windows 7/10 or above, Android 7.0 or above, iOS 13 or above, Nintendo Switch.
2. Does it have gyroscope?
No, it doesn't.
3. Does it support vibration function?
It only supports vibration on PC and Switch.
4. Does it have Turbo function?
Yes, it's available for A / B / X / Y / L1 / L2 / R1 / R2 key.
Clear Turbo of single set key or all keys is also supported.  
Combo cancel of all set keys: Long press the CLEAR key for 2s to cancel all the combo keys
that have been set.
Combo cancel of a single set key: Press and hold the key that needs a combo cancel, then press the CLEAR key to cancel the combo function of the single key.
5. What games does it support for Android & iOS phones & tablets?
Android games with controller support for Android phones & tablets.
MFi & Apple Arcade games for iOS phones & tablets.
6. What games does it support for Android TV/TV box? Comparision
It supports Android games with controller support as long as your Android TV/TV box is compatible with them.  
  Here's Google's official list of Android TV games (Please kindly note that not all listed games may be supported on your TV/TV box since some games are only available for specific boxes. To check whether your TV/TV box supports the game, please contact the TV/TV box supplier.) https://play.google.com/store/apps/collection/promotion_3000e24_androidtv_games_all 
7. Compaparison


1. All orders will be processed within 48 hours after confirmation of payment (excluding weekends and public holidays).
2. Please make sure your shipping address is correct. The buyer will be responsible for any return or failure to receive the product due to an incorrect or incomplete shipping address.
3. For orders from Hong Kong and Macau, the shipping address in Chinese is required.
4. The parcel does not contain any receipts, invoices or promotional flyers. GameSir products are ideal gifts for your family and friends. At the same time, we welcome dropshipping.
5. After the courier collects the parcel and uploads the tracking number, the tracking status will take several days to update. Please wait patiently.
6. We are not responsible for any customs duties, VAT or other taxes. However, we will try our best to reduce the additional costs for buyers.
1. All products are brand new and authentic, with a 30-day money-back guarantee and a one-year warranty. However, it does not apply to damage caused by the buyer or user.
2. If you are not satisfied with the product, please contact us for a replacement or refund. We will try our best to solve your problem and meet your needs.
3. The product must be returned in its original condition and packaging. All gifts and bundled products that are part of the order should be returned. The buyer will be responsible for the shipping cost of the returned product.
1. If you have any questions, please feel free to contact us. We will reply to you as soon as possible.
2. Customer support is available Monday to Friday, excluding public holidays.
Special Note:
 
1. Brazilian customers please remember to provide the CPF ID IN THE SPECIAL INSTRUCTIONS BLANK OR ADDRESS LINE
which is required by Brazil customs, we can't ship without it.
2. Middle East customers please enter your address in English.
3. HK customers please enter your address in Chinese.

New Shipping System

We now can deliver to more than 180 countriesand regions in the world!Also, click the button below to go to the official GameSir store on AliExpress to purchase is ok. Welcome to the GameSir store!