GameSir T4 Mini Multi-platform Game Controller
Mini shaped for smaller hands and travellers
Too much contorting travel for your fingers between the buttons? Lack of grip? Too bulky especially in long-time sessions? Then it's time for you to reconsider the gamepad size and get rid of those in-game discomfort and pain by using T4 Mini. T4 Mini's tiny size (L 5.63''×W 3.27'') allows smaller hands to hold the controller more comfortably with less fatigue. Thus, they are able to play bigger as bigger hands with the right size. What's more, the accessibility of the mini controller makes it easier for the whole family to play together at home or take on the go.
Perfect for Switch & Switch Lite, greater glory in multiplayer gaming
T4 Mini will go to auto-sleep mode after Switch console screen off, thus preserving battery life at more ease without a manual trigger. Meanwhile, one key to wake up Switch console makes you pick up Switch anytime in a hassle-free way, even if you just want a quick-to-start round for a refresh after a long workday or something else.
Make gaming more real
A. T4 Mini is endowed with 6-Axis gyro so that gamers can achieve or combine more motion inputs such as tilt and rotation, enabling more active and immersive interactions in Switch motion control games.
B. Asymmetric dual motors create different and non-monotonous vibration effects on the left and right grips, thus delivering a timely, combined, vivid vibration feedback, especially in racing, fighting and shooting games.
Multiple Turbo setups, user-friendly for all users
Turbo setup can execute fire actions rapidly, without giving hard hits on the buttons continuously, relieving your fingers' fatigue while protecting your gamepad at the same time. T4 Mini is equipped with multiple flexible Turbo setups that allow you to maximize Turbo customization. On T4 Mini, you can set up manual Turbo, auto Turbo, Turbo cancel of single key and Turbo cancel of all keys. Thus, different gamers can fulfill different gaming strategies in different games to reach an ultimate gaming experience.
Adjustable backlight modes, glow more in your own way
4 types of backlight on joysticks enables your gamepad to glow as preferred, or not glow. Customization of backlight color and mode can also create different gaming atmosphere in different scenarios, be they tense or relaxing, making you more immersed in the gaming world.

There's one saying in Flipped, "But every once in a while you find someone who's iridescent, and when you do, nothing will ever compare." Here on T4 Mini, you can also find the Rainbow in 3 ways (Static / Cycle / Breathe). May this bring good luck to your gaming.

A. Static (9 colors optional, blue, red, green, yellow, cyan, orange, purple, pink, and rainbow color)
B. 8-color cycle breathing
C. Rainbow breathing
D. Off
Multi-platform compatibility
As mentioned at the beginning, T4 Mini is a great fit for Switch. But it doesn't just end there. It also has wide compatibility with Android, iOS phones and PC, with which you can easily switch between different platforms and have more fun, free from hassle of changing controllers interchangeably.
Great game compatibility
Smaller doesn't mean functions or features smaller. At least for T4 Mini, it's the case. When connected to smaller devices like Android and iOS phones, its game compatibility doesn't go tinier. IOS players are able to enjoy MFi & Apple Arcade games and Android players, free to play HID-supported games.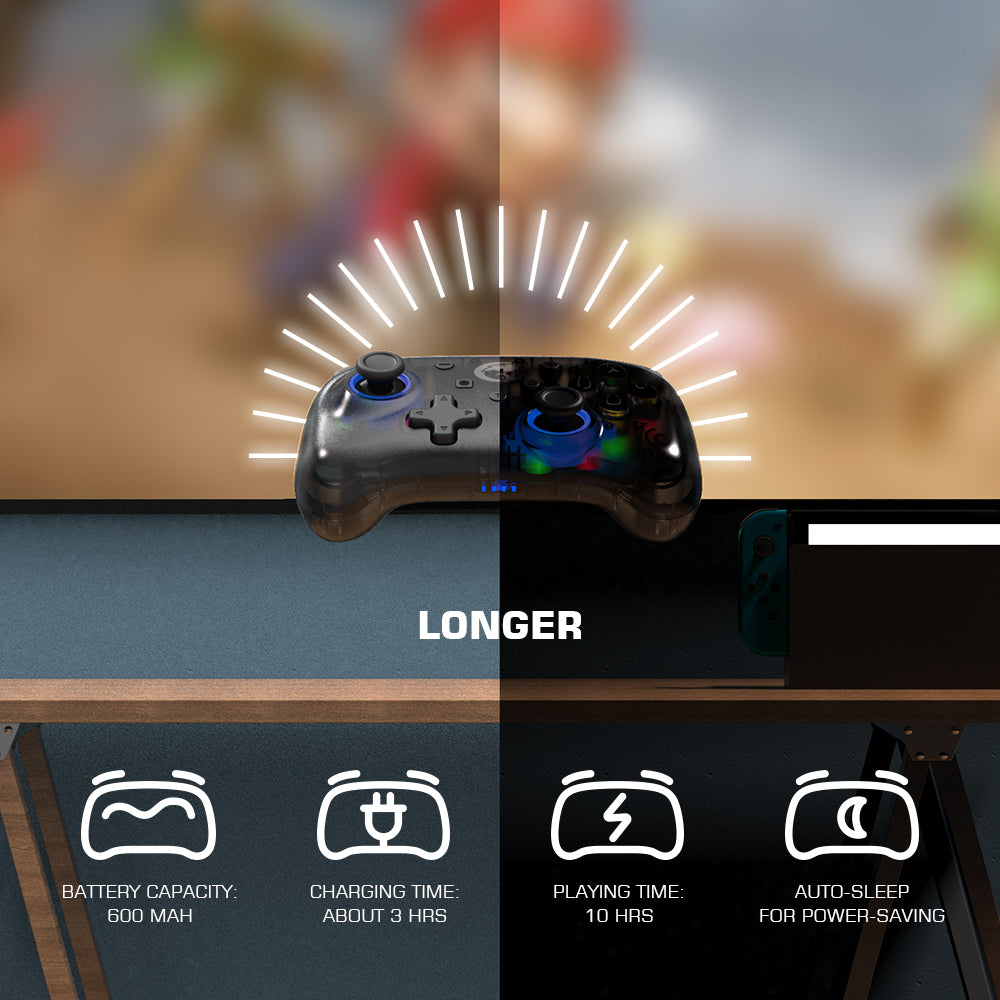 Great Battery Life, fun never stops
It takes approximately 3 hrs for T4 Mini to reach a full charge. Built-in 600 mAh battery enables you to keep gaming around 10 hrs after fully charged. Plus, the power-saving design of auto-sleep mode secures battery energy and longer gaming fun.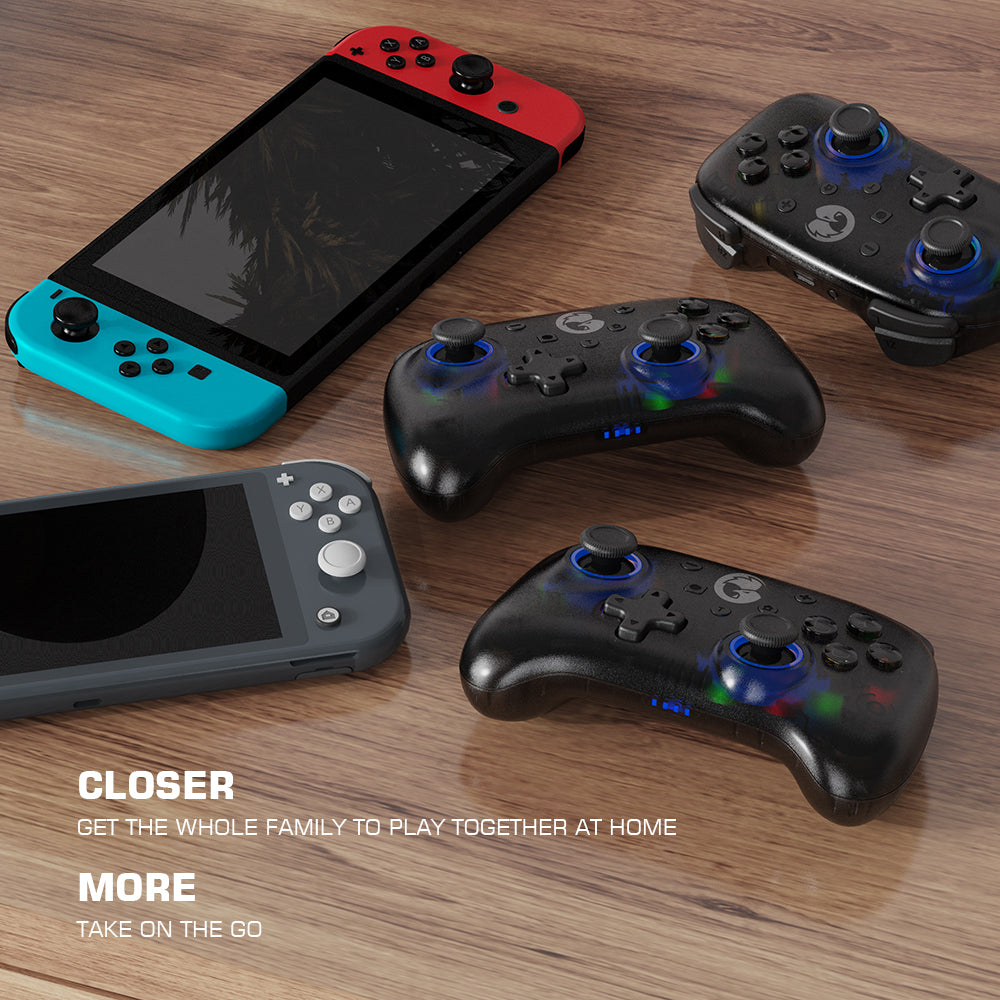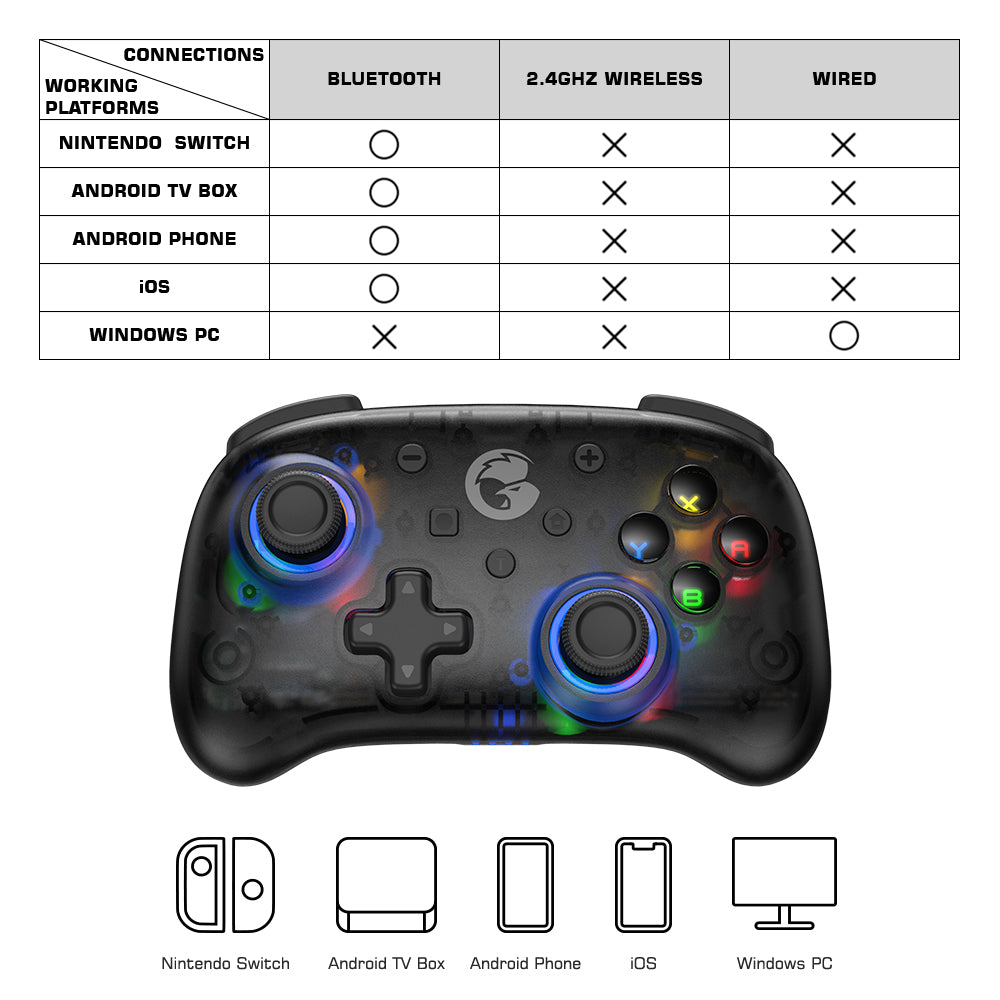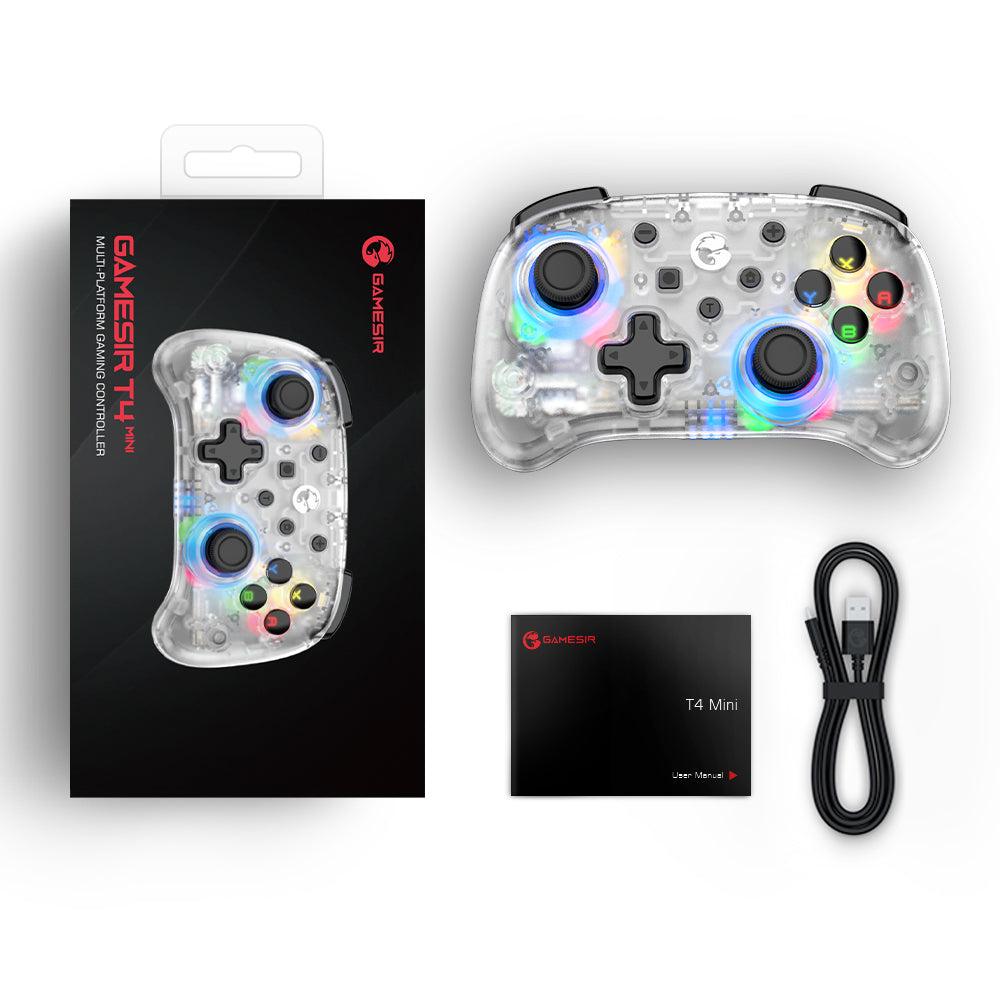 Working Platform: Switch, Android 9.0 or above, iOS 13 or above, Windows 7/10 or above
Connection: Bluetooth 5.0 (for Switch, Android, iOS); Wired (for PC)
Six-Axis Gyroscope: Yes (for Switch only)
Vibration Motors: Yes (for Switch and PC only)
Auto-sleep Mode: Yes
Wake up Switch Console Function: Yes
Auto-Combo Function: Yes
Battery: 600 mAh rechargeable Lithium battery
Product Size (1pc): 143*83*53 mm / 5.63*3.27*2.09 in
Net Weight (1pc): 156 g / 0.34 lbs
In the Box:
1* GameSir T4 Mini Bluetooth Gaming Controller
1* Type-C Cable
1* User Manual

1. All orders will be processed within 48 hours after confirmation of payment (excluding weekends and public holidays).
2. Please make sure your shipping address is correct. The buyer will be responsible for any return or failure to receive the product due to an incorrect or incomplete shipping address.
3. For orders from Hong Kong and Macau, the shipping address in Chinese is required.
4. The parcel does not contain any receipts, invoices or promotional flyers. You can buy gifts for your family and friends at will. At the same time, we also welcome dropshipping.
5. After the courier collects the parcel and uploads the tracking number, the tracking status will take several days to update. Please wait patiently.
6. We are not responsible for any customs duties, VAT or other taxes. However, we will try our best to reduce the additional costs for buyers
.

1. All products are brand new and authentic, with a 30-day money-back guarantee and a one-year warranty. However, it does not apply to damage caused by the buyer or user.
2. If you are not satisfied with the product, please contact us for a replacement or refund. We will try our best to solve your problem and meet your needs.
3. The product must be returned in its original condition and packaging. All gifts and bundled products that are part of the order should be returned. The buyer will be responsible for the shipping cost of the returned product.

1. If you have any questions, please feel free to contact us. We will reply to you as soon as possible.
2. Customer support is available Monday to Friday, excluding public holidays.
Special Note:
 
1.Brazilian customersplease remember to provide the CPF ID IN THE SPECIAL INSTRUCTIONS BLANK OR ADDRESS LINEwhich is required by Brazil customs, we can't ship without it.2.Middle East customersplease enter your address inEnglish.3.HK customersplease enter your address inChinese.New Shipping SystemWe now can deliver to more than 180 countriesand regions in the world!Also, click the button below to go to the official GameSir store on AliExpress to purchase is ok. Welcome to the GameSir store!