GameSir G4 Pro Multi-Platform Game Controller
Highly Support for iOS/Android/PC/Switch
Faster and more powerful! The GameSir G4 pro's chip has been upgraded and is now compatible with even more platforms.
Now gamers can use the GameSir G4 pro on Apple, Android, PC, and even Switch.
Magnetic ABXY Fits Switch Layout perfectly
You say you are both a PC gamer and a Switch gamer? And want to control two very different consoles with one gamepad?
Then the GameSir G4 pro would be the best choice for you.
Because it has magnetic ABXY buttons that allow you to change the ABXY layout at will depending on the gamer's needs for different gaming platforms, allowing gamers to control multiple platforms with just one gamepad!
Six-Axis Gyroscope Makes Precise and Stable Control
The GameSir G4 pro is now equipped with a six-axis gyroscope.
It supports motion control and is also more sensitive in recognizing the player's movements, which are then reflected in the game.
For example, in the Switch game, DOOM, the player can control the character to fire bullets to attack enemies through somatic controls.
More gameplay is waiting to be discovered!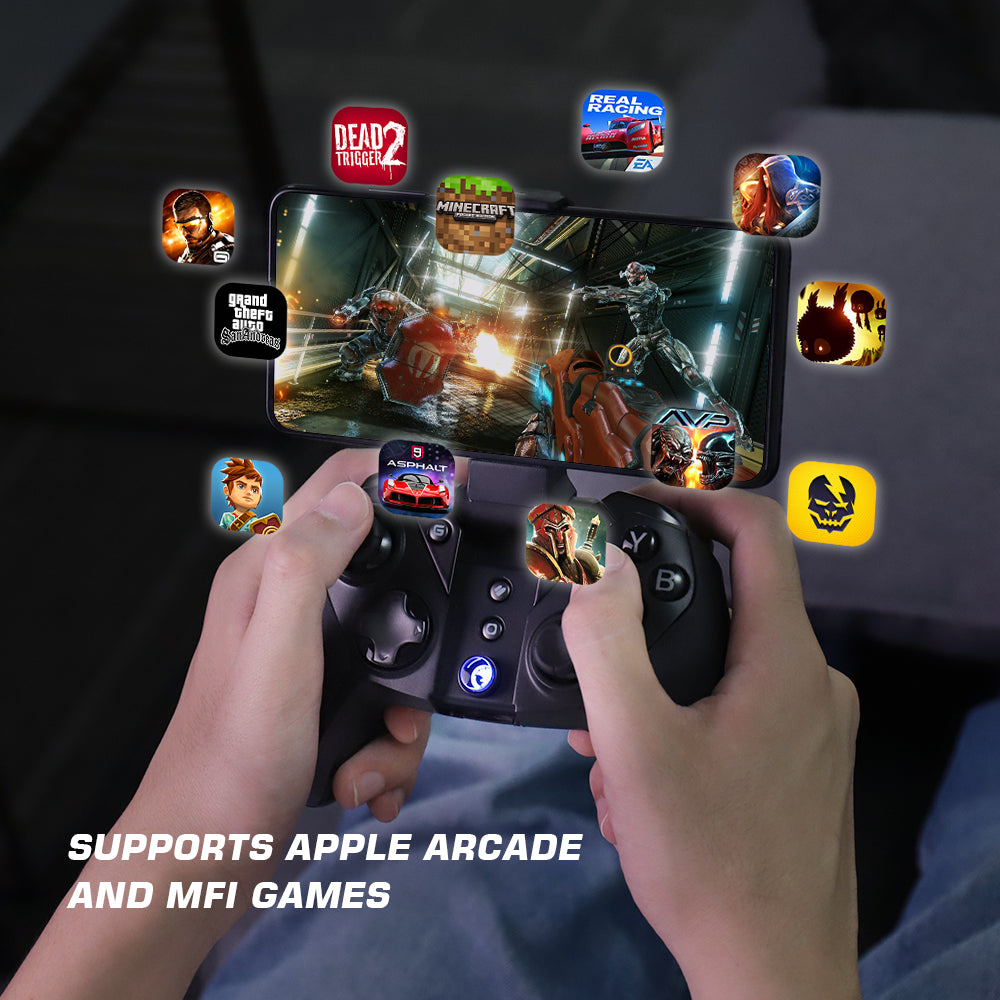 Supports Apple Arcade and MFi Games
Games, and more games.
The GameSir G4 pro will strive to make the most of its capabilities on platforms that are within reach, and today it comes to the Apple stage.
Now gamers can use the G4 pro to play Apple arcade games, and not only that, but the GameSir G4 pro also supports MFi certified games as long as they are available.
Hold firmly and comfortably
In addition to the joystick, a game controller is also important for its ability to provide a comfortable grip for gamers.
The GameSir G4 pro's grip has a non-slip, comfortable texture that prevents the player's fingers from slipping off and significantly reduces grip fatigue.
Moreover, by plating the surface of the GameSir G4 pro's shoulder buttons with a layer of metal,
it enhances their durability and allows these shoulder buttons to become more resistant to sweat and corrosion, as well as making them feel better when your fingers are pressed against them.
Asymmetric Motor
Meeting the right person at the right time may be hard.
But the GameSir G4 pro's asymmetrical motor delivers the right intensity of vibration for the right scenario, right as you're swimming around.
Whether you're jumping, crouching, or climbing, it provides the right feedback at exactly the right time.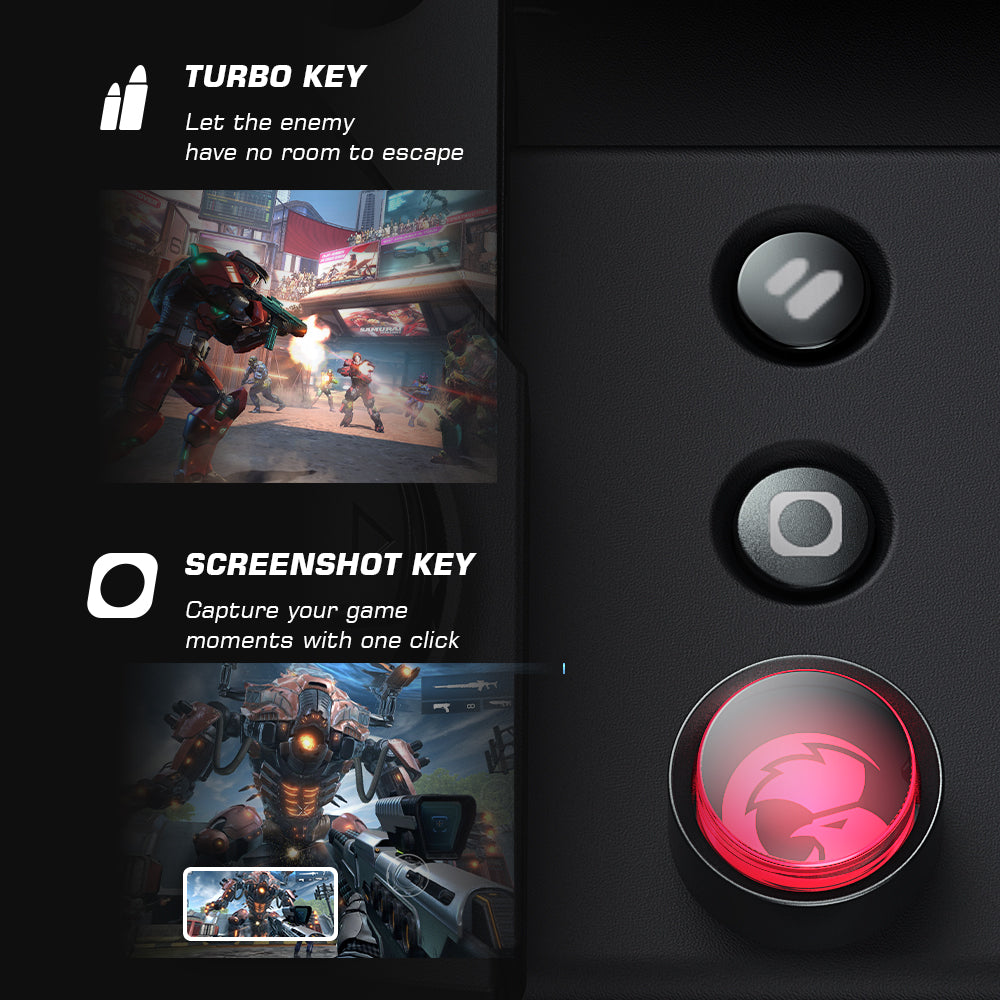 Let the enemy have no room to escape
Faster, faster, faster. The enemy will soon be out of your locking range. Are you willing to miss that?
Set up the turbo function of the GameSir G4 pro in advance and trigger it as soon as your enemies show up, with fast combos that will keep them at bay.
Also, the GameSir G4 pro has a screenshot button to capture your most precious, funny and memorable gaming moments.
Just press it with your finger when you think it's the perfect time to take a screenshot. Yes, just one click, screenshot done.
TECH SPECS:
Brand: GameSir
Model: G4 Pro
Connection: Wireless / Wired
Wireless Technology: Bluetooth 4.2 / 2.4GHz Wireless
Working Platforms: Nintendo Switch / Windows PC (Windows 7 or later) / Android (Android 8.0 or later) / iOS (iOS 13.0 or later)
Six-Axis Gyroscope: Yes
Vibration Motors: Yes
Magnetic ABXY Buttons: Yes, A and B, X and Y can be reversed
Screenshot Button: Yes, only available on Nintendo Switch / Windows 10 / Android
TURBO Button: Yes
Control Volume: Yes, only available on Windows 10 / Android
Battery Capacity: built-in 800mAh rechargeable Lithium battery
Connectivity: Type-C
Package Size: 191*130*87mm
Gross Weight: 492g

Compatible Mobile Phone
Width: less than 85mm
Note: Please remove the protective cover of the phone before use.
Please Note
Before purchasing, please tell us your phone model and the name of the game you want to play to confirm whether GameSir G4 Pro is applicable.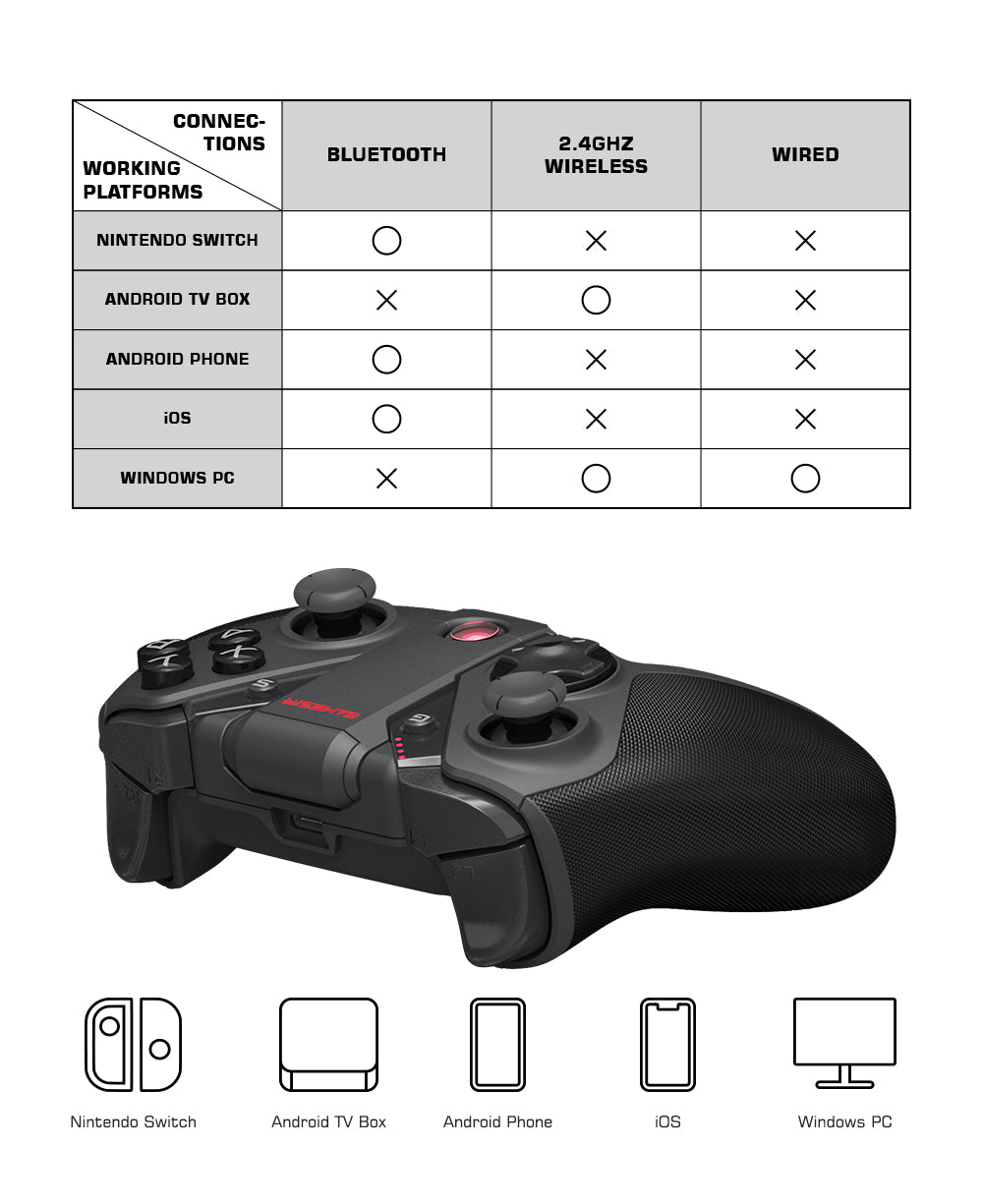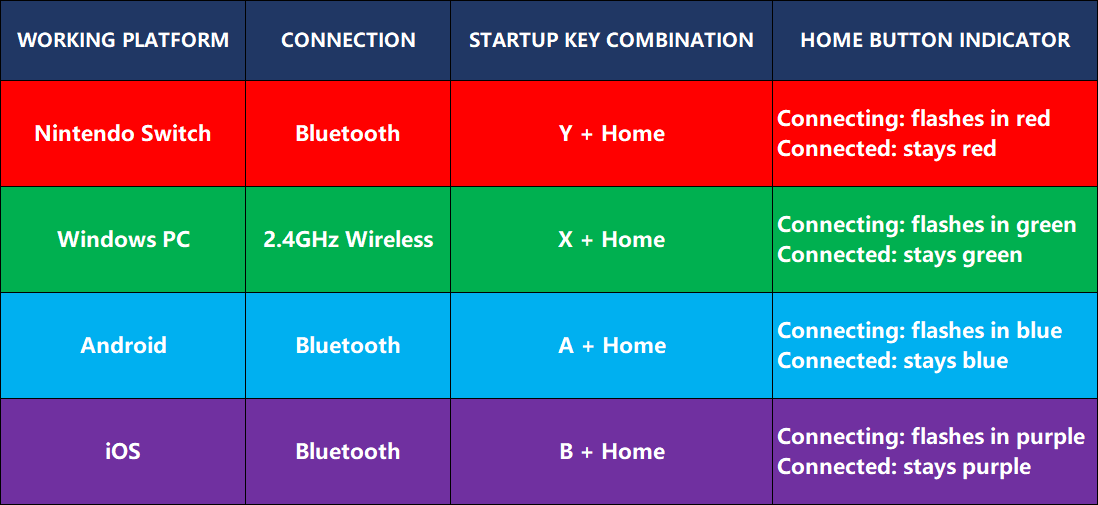 Please Note
If your device can not connect to GameSir G4 Pro, please press and hold the G + S button for 5 seconds to re-pair.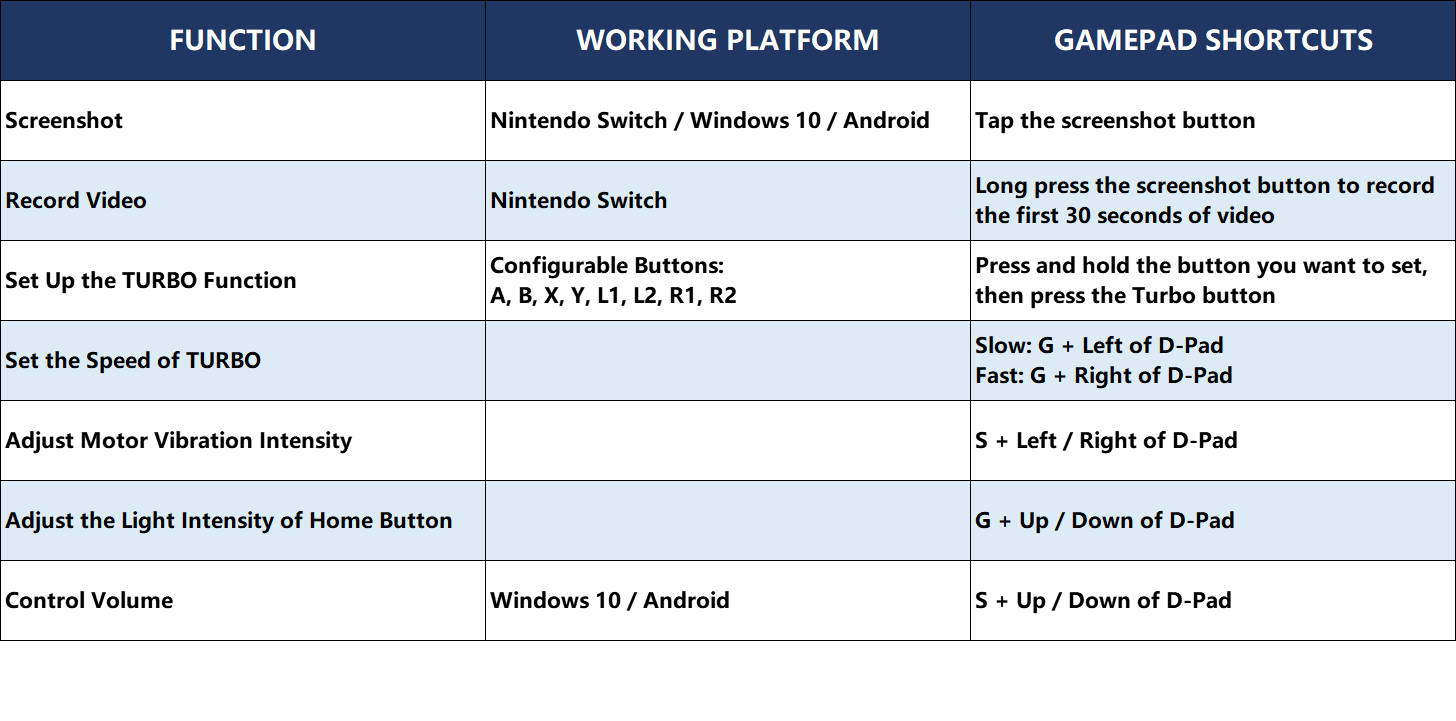 In the Box
1* GameSir G4 Pro Wireless Controller (Built-in USB Dongle)
1* Type-C Cable
1* User Manual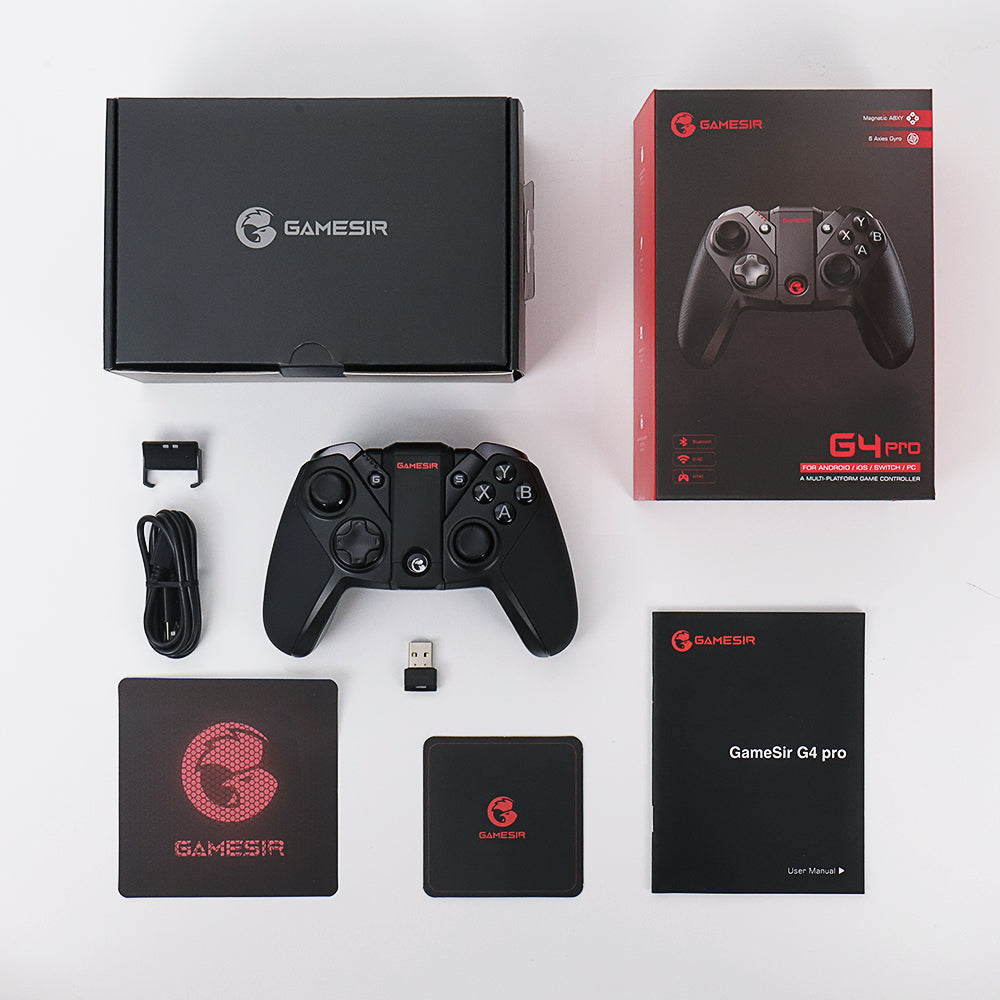 1. All orders will be processed within 48 hours after confirmation of payment (excluding weekends and public holidays).
2. Please make sure your shipping address is correct. The buyer will be responsible for any return or failure to receive the product due to an incorrect or incomplete shipping address.
3. For orders from Hong Kong and Macau, the shipping address in Chinese is required.
4. The parcel does not contain any receipts, invoices or promotional flyers. You can buy gifts for your family and friends at will. At the same time, we also welcome dropshipping.
5. After the courier collects the parcel and uploads the tracking number, the tracking status will take several days to update. Please wait patiently.
6. We are not responsible for any customs duties, VAT or other taxes. However, we will try our best to reduce the additional costs for buyers
.

1. All products are brand new and authentic, with a 30-day money-back guarantee and a one-year warranty. However, it does not apply to damage caused by the buyer or user.
2. If you are not satisfied with the product, please contact us for a replacement or refund. We will try our best to solve your problem and meet your needs.
3. The product must be returned in its original condition and packaging. All gifts and bundled products that are part of the order should be returned. The buyer will be responsible for the shipping cost of the returned product.

1. If you have any questions, please feel free to contact us. We will reply to you as soon as possible.
2. Customer support is available Monday to Friday, excluding public holidays.
Special Note:
 
1.Brazilian customersplease remember to provide the CPF ID IN THE SPECIAL INSTRUCTIONS BLANK OR ADDRESS LINEwhich is required by Brazil customs, we can't ship without it.
2.Middle East customersplease enter your address inEnglish.
3.HK customersplease enter your address inChinese.
New Shipping System
We now can deliver to more than 180 countriesand regions in the world!Also, click the button below to go to the official GameSir store on AliExpress to purchase is ok. Welcome to the GameSir store!  



GameSir G4 Pro Unboxing Video